Boy's Varsity Lacrosse Conquers Calabasas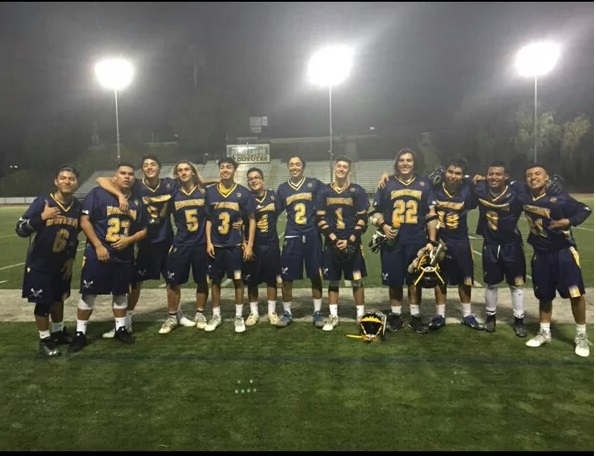 This year, the BCCHS Boy's Varsity Lacrosse Team kicked off the 2016 season by hitting the road to take on the Coyotes of Calabasas . This was an exciting and nail-biting affair for the Patriots with many ups and downs, but they were ultimately able to etch out a suspenseful 9-8 victory, starting the year off successfully with a 1-0 record.
This game had been an important one for Birmingham as they looked to avenge a heart-breaking loss they took last year (12-10) when they faced Calabasas for the first time in program history. Going into the game it was obvious the Patriots were confident that they could seal a victory against this tough opponent. They were definitely hyped to continue winning and carry on the pride felt last year when they had clinched the L.A. City Championship.
The game began with a rocky start defensively for the Patriots, who managed to give up a few goals early on in the first quarter, although they were able to recover very quickly once they were able to get the ball down to the offensive side of the field. Once the ball was moving around the struggle to keep possession relatively vanished, as captain and lead attack-man Ricardo Gutierrez (2) started off scoring for Birmingham by hitting a difficult, one of many goals. The fast paced offense of Calabasas proved to be a challenge for the Patriots throughout the game. Although after the first quarter Birmingham managed to cool off the hot start of the Coyetes by playing lock down defense and turning the game into a gridlock. With back and forth action all throughout, the game was at nail-biting intensity culminating in an epic 4th quarter and more in overtime.
With the clock winding down and time winding down it was time for someone to come up big and break the tension. Leave it to Captain Ricardo Gutierrez to step up and make the biggest play of the game in a sudden death overtime. With about 8 minutes left in the first overtime period, Gutierrez takes the ball form behind the goal (area is called "X") streaks across the front of the goal, turns around, cocks back, and GOAL!  Ricardo ends the game with an exhilarating goal, starting the season off with a bang. There are many more games to come in this exciting season that will hopefully culminate in another City Championship for the Boy's Varsity Lacrosse Team.