Make Summer Plans Now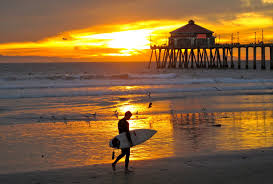 It may be spring at the moment but summer is just around the corner. We just had Spring Break and now we have to gear up for summer. Preparation for summer could mean either getting a beach body or just getting through the semester. Ultimately, we all should start to make plans for this upcoming summer before it is too late.
One popular idea for the summer is to go to the beach. The beach is an excellent place to have fun with your family and  friends or to relax by yourself. Luckily for those of us in Southern California, we are never more than an hour away from the beach. Unless the traffic is really bad, then you can expect to be on the freeway for quite a while. Once at the beach, you can go for a swim or just lay on the sand and get a tan. After a long day at the beach, there are always tons of restaurants near the beach if you didn't pack a lunch.
Perhaps the beach isn't your thing, so rest assured there are other things to do during the summer. For example, Los Angeles is home to numerous amusement parks that you can enter for an admission fee and spend the day having fun. Parks like Disneyland, Six Flags Magic Mountain, and Universal Studios are fantastic ways to spend the day riding attractions and eating flavorful foods from the dozens of eateries located in and around the parks. Amusement parks are fantastic places to go with a date or just friends and family.
For those of us who are on a budget, or just do not like roller coasters, there is still hope for this summer. For instance, there are many museums here in Los Angeles that offer free admission. Museums are a nice to stay out of the summer heat while seeing very interesting things like art and historical artifacts. The many museums you can visit include The Broad, LACMA, and The California Science Center. All of which have a multitude of wonderful exhibits that are sure to make for an enjoyable summer day.
The summer is a time of endless possibilities. However, not everyone is Phineas and Ferb. There are dozens of small things you can do during the summer like go to the mall or see a movie at the theaters. One could even devote a whole day to staying in and binge-watching a show on Netflix. If you are at least 16 you could also consider getting a job for the summer. When it comes down to it summer, it should be all about having fun. Summer should the time where you do what you want (as long as it is within the boundaries of the law).