Netflix Originals are Must See TV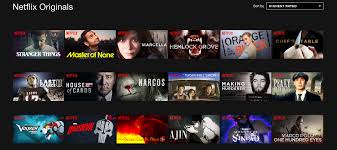 Netflix has been putting out an amazing string of original shows that are causing a craze all over. From lesbian prisoners to a blind man fighting crime, Netflix has it. Netflix didn't start making hit original shows until House of Cards proved to be a hit and it is still up and running. What makes Netflix originals different from other shows? Netflix original shows have shown so much more creativity, potential, and productivity than most other shows out on cable television right now. As of this moment, Netflix has more than 60 originals shows, and at least half of these shows have received a contract renewal due to the amazing amount of praise they received from fans and critics. So why not make a list of must-watch Netflix originals?
1.  Narcos: Narcos takes place during the rise and fall of Pablo Escobar, an infamous drug lord in Columbia. This story follows DEA officer Steve Murphy and his hunt to bring down the most wanted man in the world at that time. This Netflix original is jampacked with action scenes from to shootouts to explosions. The story is also amazingly thought out and executed, as it shows a very accurate representation of the era of Pablo Escobar. This show is rated TV-MA.
2. Orange is The New Black: OITNB has taken off and has become one of the most watched Netflix original shows to this date. It follows the story of Piper Chapman as she falls into the judicial system and goes to prison for a crime she didn't commit. She begins to learn the cold hard truth of life within a prison, and this Netflix original is full of laughs, shocks, surprises, heartwarming moments, and amazing acting. This show is rated TV-MA.
3. Stranger Things: One of the newest netflix originals to come to the scene has taken many by storm. This show follows the story of young group of friends who spend their time playing "dungeons and dragons." This game gets all too real for these kids as one of their friends, Will Byers, gets lost while going home, and this throws the whole town into fear and chaos as no one knows what or who took him. The young group of kids begins to find out the truth as to what happened to their best friend, and it's full of exciting action and a well-done story. Season 2 is currently in the works and will be out next year. The show is rated TV-14.
4. Dare Devil: Dare Devil is one of the newest installments to the Netflix originals line-up. It follows the already very well known story of Matthew Murdock, a young blind man who during the day is a lawyer and during the night he turns into criminals worst nightmare.  It is set in Hell's Kitchen, New York and follows the aftermath of the destruction that occurred in the 1st Avengers movie. The city is in ruins and totally lost in evil and corruption, until Matthew Murdock steps and takes to the streets to serve vigilante justice breaking bone after bone. The show is rated TV-MA.
5. The Get Down: Although this is one of the newest Netflix originals, people are obsessed with it and I'm one of them. The Get Down is set in South Bronx, New York in the late 1970's. The South Bronx is a city slowly dying and being destroyed. It follows the story of Ezekiel, a young man trying to make himself a name and make out of The Bronx alive. He meets the one and only mythical "Shaolin Fantastic" who is an aspiring DJ and one of the best drug dealers and graffiti artists in all of The Bronx. They end up befriending each other and create the "Get Down Brothers," a musical group which will take them to the top and get them out of the hellhole better known as The Bronx. The show is rated TV-MA.
6. Luke Cage: This is the newest Netflix original to hit the scene and it shows the story of Luke Cage, a man running away from his past and his problems until he can't run anymore. The story is set in Harlem, New York after the events of the attack in New York from the previous Avenger movie. The whole world knows superheroes exist and most are scared of them. Luke Cage comes out of the shadows when someone close to him dies, and he breaks all hell against the gangs that plague the city. Luke Cage is the only hope Harlem has in the world. The show is rated TV- MA