Finally, Some Shade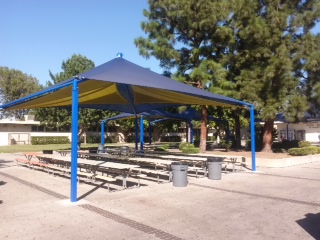 As a student at BCCHS, how can you miss it? It's big, painted yellow and blue, and most importantly—provides shade. The new covered lunch area near the student store is one of the best school improvements this year. With heat temperatures reaching record highs, the new covering is exactly what we need. Students can now eat their food, which is also new, under a nicely painted covered lunch area that provides shade and protection from future rain. Weather is no longer an issue if one chooses to eat in that area.
According to Principal Bill Parks, this new covering cost our school about one hundred and fifteen thousand dollars. Time and effort was put into designing this project, and engineers had to be hired. When asked whether he felt it was a good investment, Mr. Parks responded with, "Absolutely!" He describes the covering as "very aesthetically pleasing and modern".
Our principal also mentions that he listens to our ideas, and that there are opportunities for the students to design school improvement. He says that more often than not, he is borrowing things from somebody else and so anyone's great idea can be used. So, if you have a great idea for our school, don't hesitate in sharing it because, after all, this is our house, B's house!