Chris Brown Vs Soulja Boy Canceled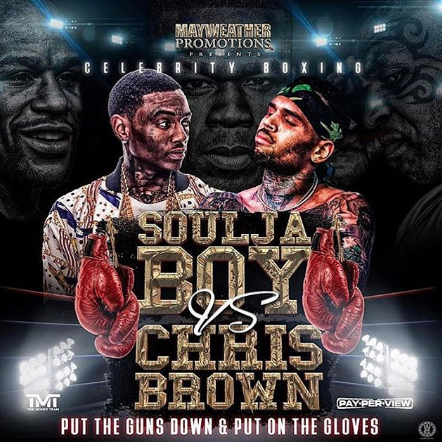 During 2016 it seemed as if everyone had an internet beef with each other online. For example, a pretty big internet feud that started trending last year was Tyga and 21 Savage. Their internet feud started due to 21 Savage (a new school rapper who was recently featured on the XXL freshman cover) reportedly texting Tyga's superstar girlfriend Kylie Jenner. Tyga took this to heart and began commenting on 21 Savage's instagram.  21 Savage didn't like this and obviously came back with insults, and this led to Tyga making a disstrack on 21 Savage. This just goes to show how quickly a simple comment or message can create a huge and sometimes over-the-top problem and situation.
Soulja Boy and Chris Brown never had any prior arguments or problems before last year. The whole argument began when Soulja Boy began posting comments on Karrueche Tran's photos. Chris Brown got angry and supposedly called Soulja Boy and gave him a piece of his mind. This led to Soulja Boy calling out Chris Brown and saying he would knock him out when he would see him, and also calling him names for hitting Rihanna in the past. Chris Brown didn't like this at all and took to social media and began throwing shots at Soulja Boy on Instagram, saying they were gonna settle this in person and take it off social media. Soulja Boy noticed how much attention they were both getting and decided to announce a boxing match between the two celebrities.
Soulja Boy and Chris Brown have been going through this huge beef as of late. This is not old news to Soulja Boy as he has been in 25 beefs, at least those are the ones who have been listed. On Chris Brown's part, the last time he was in big drama in the media was the time he hit Rihanna. Chris Brown has been staying low until now that he has this beef with Soulja Boy. Soulja Boy has used his old incident with Rihanna to get Chris Brown mad. Chris Brown has used Soulja Boy's recent incident where he went to the "Hood" (the ghetto). He went on live stating he was from the hood until someone approached him and exposed him saying he isn't from the hood and he never has been to the hood.  The local told him that he is not welcome and a fight was about to occur but it was stopped on time. Both these celebrities have had problems with each other and it's very apparent they don't like each other. This beef has been going on for a while, and it has now escalated to a pay per view fight.
These two celebrities are making the most out of this beef, milking money out of people in a pay per view fight. Each celebrity has their own coach, former boxing stars to be exact. Soulja Boy is being coached by Floyd Mayweather and Chris Brown is being coached by Mike Tyson. The fight was officially pushed back to January 28th because of how anticipated this fight was but because of complications with Floyd Mayweather productions, Soulja Boy fired him and hired a new coach to push the fight date.  Mayweather acted as a business partner apart from being Soulja Boy's coach. Media coverage is being updated on a daily which adds to the anticipation making this fight lager than ever.
Yet the real question is when will it happen?  The fight date has not been released. Is this a stunt to lure more people, or will the fight actually ever happen?
This so called "fight" has gone through so many twists and turns from Soulja Boy apologizing for starting so much drama, to Chris Brown refusing to fight, to Soulja Boy dropping Mayweather as his trainer.
It has happened! Taking the biggest u-turn and canceling the boxing match after two months of drama and it ends up being a false.  I know I was really expecting this fight as it would have been the first time two big celebrities would go one on one in a boxing match. It was Chris Brown who tweeted out that the fight was not going to happen, and he stated that it was immature and nobody could tell him what to do. Throughout the drama, Soulja Boy was seen as the antagonist, but now that Chris Brown has backed out from the fight, he looks like the protagonist. It looks bad on Chris Brown's part and makes him look like he was scared and did not want to get humiliated.