Most Anticipated Video Games of 2017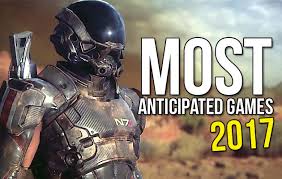 These are most anticipated video games that are coming out in 2017. In 2016, first person shooters were a smash such as Call of Duty 4 Remastered, Battlefield  1, Overwatch, and Titanfall 2. Some third person shooters were a smash as well like Gears of War 4. From the list that follows, there will be even more successful smash hits this year.
Nioh
Platform(s):PlayStation 4
Release date: February 7, 2017
Complex combat mechanics, large weapon variety, and frustratingly difficulty, Nioh could be Team Ninja's most hard-earned and satisfying challenge since Ninja Gaiden. This third-person RPG takes place in demon-plagued Japan and shares various traits with the Dark Soul's series. One, being that it will test your mental endurance as you die constantly in hopes of succession. You'll have to cut your way through all sorts of resilient enemies to find new gear, upgrade abilities, and overcoming a seemingly undefeatable boss fight that will take hours on end.
For Honor
Platform(s): PlayStation 4, Xbox One, Microsoft Windows
Release date: February 14, 2017
For Honor is a action, melee game. For Honor has a single player campaign as well a multiplayer experience. With three exciting game modes "Duel," "Team Deathmatch," and "Domination," it's a third-person game that takes place in the medieval era. This game has three different classes(Viking, Samurai, and Knight) and four different sub-classes. For Honor is published by Ubisoft.
The Legend of Zelda: Breath of the Wild
Platform(s): Wii U, Switch
Release date: March 3, 2017  
Emphasizing a wide open world experience that takes place in monster-infested wilderness rather than a populated landscape with too many cutscenes, Breath of the Wild is a beautiful shift from the handholding adventures that's been traded during the 21st century. We couldn't be more happier. The brand new NX that it's featured on, is actually close in spirit to the NES original from all those decades ago, and provides the nostalgia that we yearn for.
Tom Clancy's Ghost Recon: Wildlands
Platform(s): PlayStation 4, Xbox One, Microsoft Windows
Release date: March 7, 2017
Tom Clancy's Ghost Recon Wildlands is an upcoming open world tactical shooter video game in development by Ubisoft. It will be the tenth game in the Tom Clancy's Ghost Recon franchise. Also this will be the first Ghost Recon game to feature an open world environment. Ubisoft has said that this is one of the biggest open world games that they have ever published. With the game world including a wide variety of environments such as mountains, forests, deserts and salt flats, the visuals don't disappoint.
Injustice 2
Platform(s): PlayStation 4, Xbox One, Android, iOS
Release date: TBA 2017
Injustice 2 is an upcoming fighting video game being developed by NetherRealm Studios and published by Warner Bros. Interactive Entertainment. It is the sequel to 2013 Injustice: Gods Among Us. Injustice 2 retains numerous gameplay mechanics from Injustice: Gods Among Us–like environment interaction, stage transitions, clashes, and character traits. Injustice 2 introduces a loot-dropping system, known as the "Gear System," which offers character-specific costume pieces and equipment with status-altering effects.
God of War
Platform(s): PlayStation 4
Release date: TBA 2017
Tearing through the Greek pantheon, Kratos has set his sights to conquer Norse. The fourth entry of the legendary PlayStation series for brutalness, drops the numbering and forced Kratos to actually control his endless rage. Now, he acts as the father figure for a young, unnamed boy with lightning powers. You'll still slay plenty of fantasy creatures, but more character development and actual quiet moments in between all the carnage.
Kingdom Hearts HD 2.8 Final Chapter Prologue
Platform: PlayStation 4
Release date: January 12, 2017
Kingdom Hearts HD 2.8 Final Chapter Prologue is a collection of the Kingdom Hearts series, developed and published by Square Enix for the PlayStation 4. Kingdom Hearts HD 2.8 Final Chapter Prologue includes a HD remaster of Kingdom Hearts 3D: Dream Drop Distance, and  two new pieces of content to the Kingdom Hearts series. The first, Kingdom Hearts X Back Cover, is a cinematic based on Kingdom Hearts X that details the events that are not shown in the original game. The second one, Kingdom Hearts 0.2: Birth by Sleep – A Fragmentary Passage, is an original game that takes place after the events of Birth by Sleep from the perspective of Aqua (One of many character). Back Cover and A Fragmentary Passage were the tenth and eleventh games in the Kingdom Hearts series.
(Disclaimer these games were referred to us, we did not choose any of the games.)