College Corner
Information For College Bound Seniors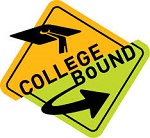 Attention to all college bound seniors! Congratulations on filling out your college applications. You did it! Here are some things to keep in mind.
Don't forget to report your scores to the colleges you've applied to!
Keep your grades up. You're not quite finished yet. Colleges do look at your senior year  grades.
APPLY FOR FINANCIAL AID AT FAFSA.GOV
FILL OUT THE CAL GRANT GPA FORM AT THE COLLEGE CENTER
FAFSA DEADLINE
Attention all college bound students! It is important that you do not forget to fill out your FAFSA. The Free Application For Federal Student Aid's deadline is March 2nd. This is very important especially if you are in need of aid for paying for college. To fill out the application you will need the social security numbers of both of your parents(as well as your own) and your parents 2013 tax return. If you need any additional help or questions, Ms. Kronstadt is available at the college center from 7am-5pm on most days.
SAT DEADLINE
Attention all college bound juniors! The deadline to register for the upcoming SAT is February 13th. This SAT will take place on March 14th. Be aware that it is not required for you to take the SAT right now. Personally, I would recommend taking the SAT for the first time this upcoming summer, and taking it at least one more time after that. However, if you feel that you are ready, then by all means sign up at http://sat.collegeboard.org/home.
ACT DEADLINE
The deadline to register for the upcoming ACT is March 13th. This ACT will take place on April 18th. It is highly recommended to take both the SAT and ACT because it is possible to score higher on one than the other. The difference between the SAT and ACT is that on the SAT a quarter of a point is deducted from your score for every wrong answer, which is why you are encouraged to leave answers blank if you have absolutely no clue. However, on the ACT no points are deducted and you are encouraged to fill is every bubble. Fee waivers for the ACT are available at the college center. Sign up for the ACT at http://www.actstudent.org.
Taking these tests is an important step in applying to college. They provide you with the opportunity to connect to scholarships, learn your academic strengths and weaknesses, and help find colleges that are the right fit for you.
For the SAT 1500 is the average score and, at BCCHS, counselors aim for students to score at least 1500 or higher. If you have taken the SAT and have scored lower than 1500 or want to get a higher score, don't worry. Birmingham offers a class over the summer just for SAT preparation. You can sign up for this class at the end of the year at the college center. To take the class, the only requirement is that you pay $15 dollars. With this class, you can get yourself prepared for the SAT and catch up on elective credits, since the class gives you credits on your transcript.
If the reason you don't want to take the SAT is because you think that you can't afford it, this is not true. You can get two fee waivers for both the SAT and ACT. This means that you can take each of these tests twice for free. It is recommended to take the SAT and ACT more than once because the CollegeBoard website saves your scores and you can pick which scores you'd like to send to the colleges you've selected. You can find all this information and more on the SAT website (sat.collegeboard.org), about college, careers, and advanced placement classes.
---