Awning System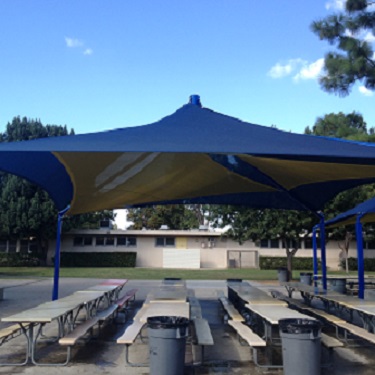 The school has spent a lot of  money on setting up an awning system in the lunch area.  The point of it was it to  have a nice little place where students can eat their food in peace without getting their heads burned in the heat or have their food soaking in the rain. Smart idea, but not everyone is happy about it.
Some of the students are talking about how it was a waste of money, or how it could of been better.  Most students do agree that the awning is better than nothing, but there are some flaws, like, how the awning covers most of the area except the corners of the table. While the tables are covered, the awning doesn't really protect from the heat itself. That was one of the main reasons that we got the awning, and it sadly doesn't work too well (Bummer). Well, since it's a cover it should at least protect the students from the rain, right?
Again, a good idea with good intentions, but not executed well. The awning apparently has little holes in it because of the material and how it is designed. Students are speculating that water might leak through, although it hasn't rained yet so it's difficult to say whether or not it's true.  A lot of negativity, however, some of the kids in school are finding positive things about it. Some are saying that "it's better than nothing." In fact, one of the most positive things that people are saying, is that it looks nice. The blue and gold colors really do complement one another.