Doutrive Brothers Lead Patriots to First Basketball L.A. City Championship
They've been talked about around school and outside of school. People look up to them, literally and metaphorically. Devante Doutrive is currently a senior and he has been offered him a scholarship to Arizona State University. His younger brother, Devonaire, is a junior and there's still another year for him to shine at Birmingham. Together they are known as the Doutrive brothers. Birmingham students enjoy watching them play and they've been a huge help to the Birmingham Varsity Basketball Team and they've made huge contributions in scoring throughout the season.
On March 3, 2017, the Patriot basketball team won their first Los Angeles City Championship against Westchester 85-80. Devante put up 26 points against Westchester and Devonaire was only 2 points away, scoring 24 points that game. Just a week after winning the City Championship, the Southern California State Playoffs began and the Doutrive brothers–along with Deschon Winston and Mark Boland–would face off against the famous Ball brothers and defending state champions, Chino Hills High School. Birmingham put up a fight against the Huskies but sadly the Patriots ended up losing 130-110. The season then came to an end and the brothers will be remembered for putting up outstanding performances throughout the whole season. Devonaire has averaged 18.9 points per game this season and Devante has averaged 21.7 ppg (points per game) according to Max Preps.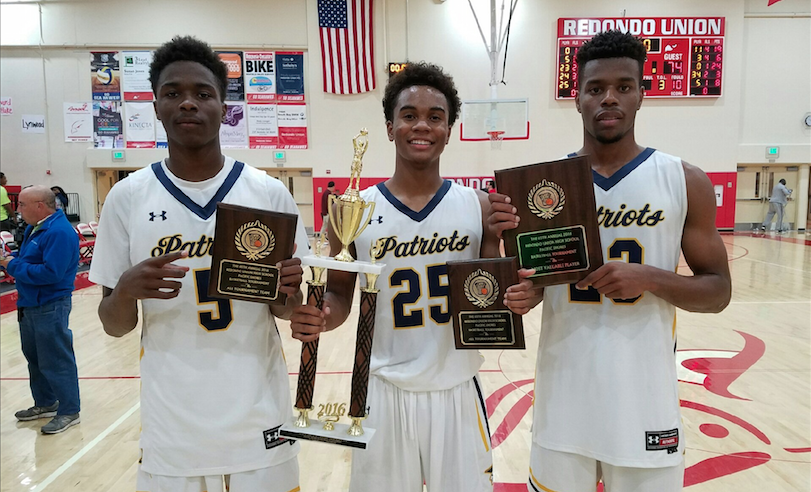 http://www.wegotnextt.com/blog/from-the-snow
(Devonaire Doutrive on the left, Deschon Winston in the middle, and Devante Doutrive on the right after winning the Redondo Beach tournament earlier in the year)
Devante Doutrive has had an outstanding year and he is a very aggressive and passionate player, which makes him stand out from all other players. He is the 23 ranked shooting guard in the country, and ranked fifth in California. He is 6'5 and capable of finishing at the basket with both hands and making good passes, but his best attribute is attacking the rim. His height and length make him a great defender as well.
In a comment to ScoutHoops, Devante said "I've just been working on getting better every day, passing the ball, getting my teammates the ball, making my teammates better, making people around me better and playing good defense."  This shows how much he works out in the gym to get better.
Devante was not the only player putting in work for the Birmingham basketball team. Devante's brother Devonaire has also made a huge impact and is another key to Birmingham's success this year. Devonaire lead the league in assists, averaging 6.2 assists per game. He was behind his brother in every other stat but blocks. Following in his older brother's footsteps, Devonaire loves being a gym rat and he is always practicing to improve his game. He works hard to improve the players around him through his hard work and determination. If Devonaire follows his brother's example, he has a very bright future. He is already being scouted by top colleges like Gonzaga, Oregon, and Arizona and this makes him a top future  prospect.