Barcelona's Historic Comeback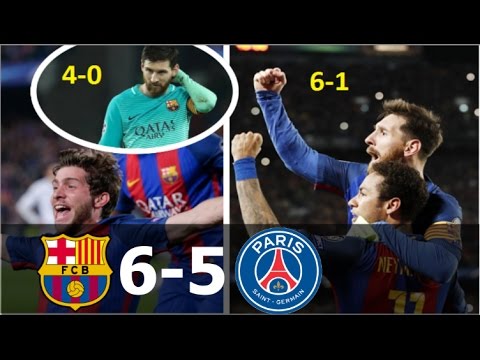 The game of football or soccer will always be filled with twists, turns, surprises and upsets. Every once in a while we are treated to historic matches and this year's UEFA Champions League has had plenty of matches filled with explosive action and beautiful goals. One such game in which they broke the most goals record was Manchester City and AS Monaco FC. In the first game, Manchester City demolished Monaco (5-3) with goals from Raheem Sterling, Sergio Aguero, John Stones, and Leroy Sane for Man City and goals from Radamel Falcao and Kylian Mbappe from Monaco. In the next game, Monaco made a pretty impressive comeback and they beat Manchester City (3-1) with goals from Kylian Mbappe, Fabinho and  Tiemoue Bakayoko for AS Monaco. Manchester City wasn't able to mantain their lead and only scored one goal from Leroy Sane. AS Monaco made it through on aggregate (7-6). This match was one of the most exciting to watch in this year's Champions League, but there was yet another match that everyone will be talking about for years to come.
FC Barcelona's first match against PSG (Paris Saint Germain) was a devastating match for all Barcelona fans. The first final result was 4-0, PSG, and I personally think that Barcelona wasn't playing how they usually do. The defense and midfield was lacking so it made it easier for PSG to get past them. The first goal came around at the 18th minute by Angel Di Maria. He had two goals in the game with his second goal coming at the 55th minute–which would be PSG's third goal. The second goal was scored by Julian Draxler at the 40th minute. PSGs 4th and final goal would be scored by Edinson Cavani at the 71st minute. Even though Barcelona had full control of the ball with possession 57% to 43%, they lost the match. The match was lost because Barcelona wasn't really completing passes and they would be intercepted by PSG. I was personally surprised that they lost that badly because Barcelona doesn't always lose like that. They usually win or lose by 1 or 2 goals. The Barcelona fan base probably felt the same. But everyone still believed in Barcelona to win the second game by a large margin and move onto the quarter finals in the UEFA Champions League.
The second game Barcelona played at home, and they were going to need a miracle in order to win and continue their cup run.  As the game started, Luis Suarez scored a header as early as minute 3 to give the Spanish side hope. The Catalans kept pressuring PSG to the point where their passes were not going through at all. Later, around minute 40, PSG's leftback Layvin Kurazawa scored an own goal (against his own team) making the score 2-0, Barcelona. At this point, many people thought it would be possible for Barcelona to make history and make a huge a comeback against the French giants. The second half started and it was obvious that Barcelona was dominating possession as they had 71% possession of the ball while PSG only had 29%. It had been 5 minutes into the second half when Lionel Messi came around to score the 3rd goal at the 50th minute. The game continued 3-0 for a couple more minutes and many Barcelona fans began losing hope. Once the 62nd minute came around, it got worst because PSG's Edinson Cavani had scored. The clock finally hit 87 minutes and Barcelona fans were devastated to see that their team wouldn't continue, but little did they know the team still had hopes and Neymar finally scored 2 goals, one after another. The first one was scored at the 88th minute by an amazing free kick shot by Neymar himself and the second one was scored at the 90th minute in a penalty shot. The scores would sum up to 5-5 because of the match before but Barcelona needed to score that last goal to move on in the UEFA Champions League. At the 76th minute Rafinha was substituted out for Sergio Roberto and he was the one to save Barcelona's League hopes and at the 95th minute, he would score the last goal! The match ended a couple seconds after that and all Barcelona fans and the team were really excited to see that they would move on to the quarter finals!
The game was talked about all throughout the soccer community. Many people didn't believe it and a lot say that the match was fixed–that the free kicks/penalty were evidence of help from the referee. But this match will go in the books as one of the best historical comebacks of all time. The match was intense just to watch on television but imagine being there at the stadium! It was like watching Super Bowl 51 all over again, only this time in soccer, and maybe less people were watching the Barcelona match, but it was still an amazing match to all the people that were watching it. Miracles happen at times but in the past two years, they've been happening a lot and many people get mad over the silly mistakes, but the winning team's fans end-up surprised and even more excited. You can always believe in your team, so don't quit so easily on them because you never know what could happen.