Chino Hills Defeats LA City Champion Patriots in State Playoffs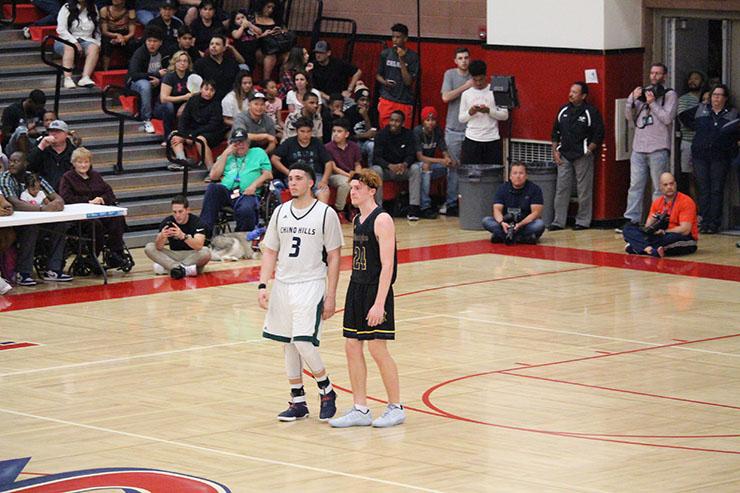 After the Birmingham Men's Basketball Teams' well-deserved 2016-17 City Championship, their season wasn't over yet as they continued to the Southern California State Playoffs against Chino Hills High School.  Birmingham prepared intensely to face the talented Chino Hills team and their two star players, LaMelo and LiAngelo Ball. The superstar brothers were ready to face Birmingham and so was the rest of the team. Although no one else wanted to play Chino Hills as badly as Birmingham, who also have two superstar brothers, Devonaire and Devonte Doutrive, all the players were very hyped to play against the Ball brothers.
The stage was set days after Birmingham's City Championship and the BCCHS campus was shaken but also excited when they found out their next opponent. As soon as the tickets were put on sale, the student store was packed with students before school and during lunch causing extremely longs lines. Many students would have liked to purchase a higher amount of tickets but the cap was 4. Throughout that week, there was a lot of chatter and hype which lead to the big day. The tension and anticipation was huge with Birmingham sending about 6 busses filled with students and even the women's basketball team showed up to support their fellow Patriots. Many students found their own transportation to take the two hour plus trip to support their team. 
Finally it was game day and the contest was set at Colony High School in Ontario and it seemed like the middle of nowhere and the smell of manure was very strong. The drive from Birmingham to Ontario was about two and a half hours long because of Friday traffic. Many students were very anxious with the ride being so long and as soon as they arrived to the game, the line to get in was huge! The atmosphere was very dynamic, with nervous and tense students waiting at the gates leading to one of the best season games to date.  You could smell the competition in the air as more than 3,000 people showed up to this great showdown between these two schools. Upon entering the gym, students could already feel the excitement with chatter and music playing. Many reporters and photographers were snapping pictures of both schools and interviewing the players and coaches before the game started.
At game time, many fans from both school were cheering their team on in this highly anticipated contest. The first quarter was very exciting as one team would score and the other would immediately respond. Each team was playing aggressively and Devonte Doutrive received three fouls by halftime. LiAngelo was playing very well as he scored 52 points that night and his brother LaMelo added 17 points. The hype was very real as the Birmingham students took a huge chunk of the gym and made their presence known by chanting proudly for their Patriots. By the second half the Huskies had a big lead but the best part of the game was the Patriot fans with their spirit so high and always on their feet chanting for their school even though they were losing. LaMelo put on a show by using his slippery moves to get through Patriot defenders. The Huskies had help from their big men also with Eli Scott and Onyeka Okongwu adding points and several dunks to the scoreboard. While was Chino Hills a bit dominating, Birmingham put up a huge fight by not giving up and Birmingham's star player, Devonte Doutrive, scored 39 points. Even though Chino Hills beat Birmingham with a score of 130-110, the game was amazing and it was so worth it traveling two and half hours to see this amazing showdown that ended with both teams respecting each other.