North Carolina beats Gonzaga for 6th National Championship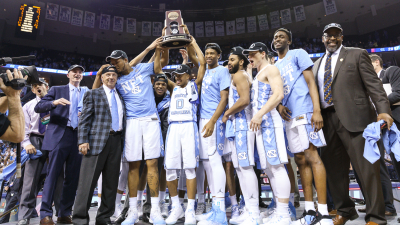 The North Carolina Tar Heels added another championship to their record while the Gonzaga Bulldogs tried to win their first championship and make history. The Gonzaga Bulldogs had only one loss during the season and went into this game full of confidence and tried to become the first non power conference champion since 1990. The Tar Heels were seeking redemption after last year's loss to Villanova in the National Championship. The head coach of North Carolina, Roy Williams, coached his 100th NCAA tournament game and earned his third championship.
The game had a tipoff at 6 pm in Phoenix, Arizona at the University of Phoenix Stadium. Most of the stadium was filled with very spirited students from both schools. The game was tense and both schools struggled. The Tar Heels had shooting troubles, missing shots from the perimeter, but overall their rebounding was decent. The Bulldogs had foul trouble and two of Gonzaga's key players had 4 fouls by the half. Gonzaga's big man Karnowski was struggling in the paint and shot 1 of 8 with four turnovers. The 7 foot center was a key factor why the Bulldogs didn't put up points. North Carolina's defense is what held them to a 3 point deficit by the half and had Gonzaga players struggling.
In the second half, the Tar Heels turned up their defense and locked down the Bulldogs, although the Tar Heels had trouble with their offense. The 4th quarter was a back and forth battle with both teams making clutch shots and not letting each other take the lead. It was North Carolina's defense which helped win the championship and get their sweet revenge from last year. The Zags put up a fight, but with their offensive struggles, they weren't able to succeed. Both teams gave it their all but only one could be champion, congratulations to the North Carolina Tar Heels.