Tips for Taking Finals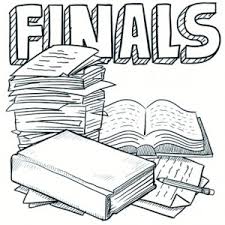 We're all starting to feel the stress and anxiety coming because of final exams. Many of us need tips or new ideas when it comes to taking these tests. Here are some easy and fast tips for when you start taking finals.
Step 1: Create your own study guide
While many teachers provide study guides, creating your own can help you understand the material better. Outlining the important information you need to learn can be helpful–both in creation and to refer to during your studies.
Step 2: Attend the review sessions
Review sessions offer vital information on exam format, what will be on the exam, and key concepts you should be focusing on.
Step 3: Study things not on the study guide
Study guides aren't always comprehensive; they're just suggestions of the main concepts you need to learn. Use your study guide to help you.
Step 4: Take breaks
You won't be able to memorize or comprehend all the material at once. Ensure that you reward learning with break times to recharge and relax.
Step 5: Quiz yourself
If you think about and create actual exam questions, you will likely become more familiar with what you need to study and, in the meantime, familiarize yourself with the type of language that will be on the exam. Write potential exam questions and quiz yourself so that you can set expectations for what you need to focus on.