Shark Sightings in Long Beach and Attack in San Onofre Cause Shark Advisories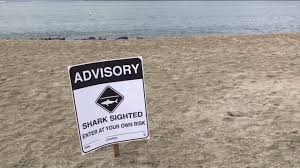 Do you like to surf? If you live in Long Beach and love to surf your going to have to wait. A shark advisory is still in place since Monday May 8, after multiple shark sightings provoked officials to put up warning signs.
Marine safety officials estimated that there are 10 to 20 sharks swimming off coast. The Long Beach Fire Department also posted along with the advisory on Friday.
According to the Fire Department, "The sharks' interest in Long Beach is tied to a thriving aquatic ecosystem in the Long Beach Harbor." They also stated that the sharks presence is not unusual and they have not displayed any aggressive behavior.
The beaches have remained open but signs were placed near the water to warn potential swimmers to "enter at your own risk."
A video was also taken last week that showed great white sharks swimming close to the shore. Imagine if there were people swimming while the sharks were close and had no idea they were there. What might have happened?
A woman was bitten by a shark while swimming in the waters off San Onofre State Beach on April 29.
Doctors said Leeanne Ericson was doing "remarkably well" after being airlifted to Scripps Memorial Hospital in critical condition following the terrible attack.
Officials in Long Beach will use reports from the public and patrols of the area to continue  reexamining the shark advisory.
Hopefully the sharks will soon leave so people will feel more safe and secure while still having fun.