New Sophomore Academy Opens!
Birmingham has just created the new 10th Grade Academy for our sophomore class. "An entire academy just for them?" Yes, the academy's entire focus is only on the 10th graders and it has so much to offer for them! Last year, instead of the 9th graders choosing their own academy, they were automatically put into this new academy. The academy is run by Mrs. Wydra, who's the lead teacher. The two counselors are Dr. Harwin (who's in charge of last names A-L) and Mr. Savage (in charge of last names M-Z).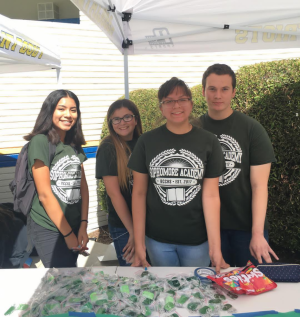 The reason the academy was created was to provide more attention to the sophomore students. Since students from the past said they barely received any attention during their 10th grade year. "As a school we felt like the 10th graders were being overlooked," said Dr. Harwin. "But this year, our school has changed this situation by creating a new academy to only focus on the 10th graders. The academy was made especially to help the students individually understand academics, emotional health, and social health issues. This way, the students can have more one on one conversations with their own counselors and lead teachers."
Counselors Dr. Harwin and Mr. Savage help achieve this by being on top of their sophomore students. For instance, helping the students keep their grades up, showing them their graduation requirements, demonstrating to them what they're going to face in their junior and senior year. In addition, having their own individual class meetings, taking the sophomores out to field trips and college campuses, and more activities for just the sophomore students.
Mr. Savage said the biggest issue he sees is the number of failing students. However, he helped decrease the digits by meeting up with the students individually and helping them and letting them know that they can make it and do better. He also mentioned that many of his 10th grade students go up to him saying "I can't do it", "I can't make it" or "this is too hard". As a counsellor, his job is to help them void these negative intellectual thoughts and prosper. Mr. Savage expressed, "I like helping kids come up with plans on what they want to do," allowing the sophomores to plan ahead about what their future might consist of.
Dr. Harwin explained, "My main goal is to call the students in and explain A-G requirements. And go over their graduation report to ensure they're on track for graduation." She understands many students face problems inside and outside of school yet she makes sure as well as Mr. Savage that she'll help them to improve and get through those hard days. There is a not an understandable reason to why the students have a stigma about not being able to complete high school said Harwin but she's making sure she's trying to get it out of the kids heads and let them know the truth. Overall Dr. Harwin exclusively reveals that she doesn't just want to focus on only one part of a student but the entire student. She accompanies this by not only being there for them academically but also, as a therapeutic counselor as well.
Even sophomores are finding the new academy useful and efficient.
During an interview with student Zyana Cabrera she said, "the new 10th grade academy is pretty cool, it separates us more, and it gives us more attention." Like many of her classmates, they really enjoy the academy, because all the focus is just on them and not on other grade levels. Cabrera revealed that even though she likes the 10th grade academy, there's one reason why she wouldn't want to be in it. She states, "many of my friends are in other cool academy's like Cal, Mash, PVA, and Digital Media and I wish I could be with them." Although, by next year she'll be able to join her older friends in those academies for her junior year.
The new academy's office can be located in the learning center near the center of the quad; which was previously used as a classroom and offices for other teachers. The academy office is shared in the same building as the Freshman Academy, where both academy offices are literally across the room from each other.
Students face changes constantly in school. This new academy prepares them to adapt to changes in the near future. Some may not end up with good results. But, nothing will change if we don't accept the new changes on the way.