Back To School Dance A Huge Success
 With the sound of students laughing and dancing on Friday night, August 15, 2017, the Back To School Dance was a big success. In many cases, students normally don't enjoy being back at school but in our case, our students were more than happy to be back. The event at the soccer field brought several students back at 7 p.m. The lines to get inside were long but moved fast once the doors opened.
Before the dance, Bernice Jimenez spoke on behalf of ASB and said, "We hope that as many people would buy their ASB card in order to get in for free. For those with or without an ASB card, everyone should still come out and enjoy the dance as ASB has worked very hard on it and wants the rest of the school to have a boatloads of fun." Many students would agree that they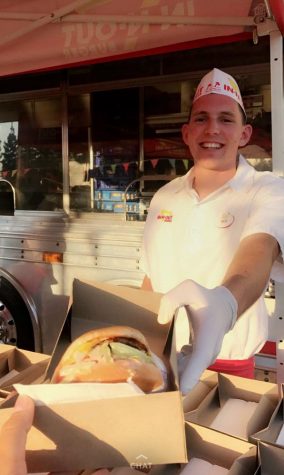 enjoyed themselves, and everyone wanted to be the first one inside. What better way to start the year than with free food, including In-N-Out and several obstacle course jumpers.  Not only did we have free food and jumpers, but we also had a DJ that kept the crowd busy dancing!
As the students waited in the lines, I had a chance to speak with a few, and the majority of them said that they felt the dance was going to turn out to be "good" but Deon Jefferson used a different connotation, in which I'm sure more students would relate to. He said it will be "freaking lit."
The dance wasn't just fun, it was something many would remember from their high school experience. Students wouldn't stop dancing, crowds were
getting bigger, and everyone was laughing and simply enjoying themselves.
For some seniors this was their first school dance, shocking right? Initiating the school year with a dance not only brought us together but it also gave the under classmates a great first experience. We saw freshmen dancing with seniors. Everyone was mixed and Natalie Rodriguez said, "Everyone is getting along together." This just demonstrated that school spirit unites everyone. No one felt like an outcast and for many, this experience got them more excited for future events. As Jimenez said, "As it turns out today, we had a huge crowd so I hope this spirit continues throughout the whole school year. We had over 1,000 students tonight."
Although some students did suggest a few things (like to bring back the ferris wheel from the year before and also making the dance in the football stadium instead of the soccer field). For upcoming years, students also said that the school should be more prepared with enough water because with the crowd dancing, all students want at the end of the dance is any type of water.
Even though they had a wrist band, some girls wanted to go outside and  leave purses in their lockers and others their backpacks once they saw how big the crowd was and didn't want to be in the middle of it. I'm sure the security was simply doing what they were told to, but they should consider letting students have in and out privileges for future dances.
Birmingham ASB simply knew how to organize the perfect event to the start of the year.  All the energy and all the excitement belonging to the students  was released, and our Welcome Back School Dance wouldn't have been the same without our spirited students.