Lorde Takes the Greek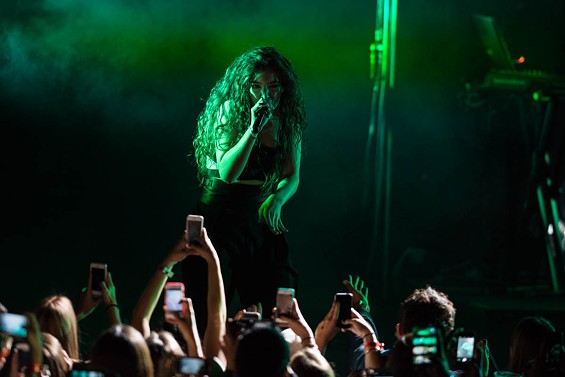 Monday night, October 6,2014 at the Greek Theatre, Ella Yelich-O'Connor, also known as Lorde, put on a two-night, sold out, mind-blowing performance.
The show attracted many other celebrities including, Vanessa Hudgens, Austin Butler and more. Many took to twitter to complement the 17 year old singer/songwriter on her performance of the night.
The opening act was Majical Cloudz, a band originating from Montreal, Canada. They provided the audience with a serene concert experience as everyone relaxed in their seats before the show started. Majical Cloudz was  a great opener for Lorde as their sounds meshed well with each other.
Lorde started her "The Tragic and Wonderful Triumphal Procession Tour" with a slower version of her hit-song "Glory and Gore", and she later went on to do her own version of Kanye Wests "Flashing Lights", surprising the entire audience, who was  on their feet the entire time. The show stopper of the night was when she asked the whole crowd to be the stars in the sky by putting up the lights on our phones. Everyone capable of putting their phones up did and it created a memorable experience for all onlookers.
Lorde also took the time to sing her new song "Yellow Flicker Beat" that will be included on the Hunger Games Mockingjay Soundtrack. The song debuted on September 29 on all music listening platforms and already has over 2 million views on YouTube.
The popular singer/songwriter took the time to thank her fans multiple times and mentioned that she saw some familiar faces from her show at the Belasco (which took place a year earlier) and from the 2014 Coachella Valley Music & Arts Festival.
The overall concert was such a delight and you could really feel the love from her fans while she poured her heart out during her songs. On a scale of 1 to 10, 10 being the best, the concert was a 12.