Thirty-One Days of Halloween Fun
Halloween is days away and what better way to celebrate it by counting down the days with spooky monsters, thrilling theme parks, or a heart-stopping corn maze?
One family-friendly and exciting place to visit this October is the "Los Angeles Haunted Hayride" in Griffith Park (7430 Crystal Spring Ave). Enjoy watching feature shows, get to ride the Scary-Go-Round, dive into delicious foods, and shop the various small shops throughout the park. People who attend the Park's event are able to go door to door and be greeted by an unexpected characters giving out candy. This event has four chilling attractions: "Purgatory," the theme for this attraction is how Halloween came into existence.  Another attraction is the "House of Shadow" where it is a pitch-black maze where you are constantly being frightened by the most horrific creatures you can imagine . Finally, the most popular attraction, "The Haunted Hayride."  You're are seated in a tractor traveling throughout the park in the dark, being visited by frightening monsters, including clowns. Before the ride comes to a close, you'll be left to go through a corn maze on foot. Only those who feel brave enough actually ride "The Haunted Hayride."
While Disneyland is a fun year-round amusement park, their latest attraction is the Halloween-themed "Halloween Time." It's Disneyland like you've never seen it before–with hauntings, pumpkins, and ghouls, oh my! Disney's signature characters such as Mickey and Minnie Mouse and friends are dressed in their best for this spooky event. Take a stroll down Main Street and admire hundreds of jack-o-lanterns while enjoying one of Disney's famous caramel apples. You can even capture an insta-worthy picture with the giant Mickey Pumpkin. For those looking to take younger siblings, Disney offers a special package known as "Mickeys Halloween Party" and attendees of this special party will receive a Disney map that has been marked with "treat trails" and those who follow these trails will be rewarded with candy, snacks, and fun. While this event is a bit expensive, with tickets starting at $97, it will be well worth it as you make memories that will last a lifetime. Disney's Halloween fun is only available September 20-October 31st, so make sure to visit before the fun ends.
Now what's more scary then a haunted boat? Maybe a haunted ship on Halloween in the dark with monsters roaming the deck. That's exactly what's going on at The Queen Mary in Long Beach, or as it is known before Halloween, "Dark Harbor". At this chilling event, guests walk around the most haunting areas in this 2,030 ft. long ship. There are seven mazes total starting at $29 dollars! Yes seven mazes aboard and around the ship, and each maze has a different theme in each area. New to this year is the "FEAST" maze, which might sound funny for taking place in the kitchen, but actually has a dark side with the chief who served during WWII…and how he forgot to mention how he served the soldiers their own friends!
If you are not a fan of small, tight, and dark areas, this is not the maze for you! "B340 'A Descent Into Insanity' " is the name of the most stressful maze of them all. "SOULMATE ' Til Death Do Us Part' " is a tragic story about a young lady named Grace who desperately went looking for a soulmate and never returned… and now roams the mysterious maze. Remember, don't get fooled by her charm!
. An unforgettable maze is the "INTREPID 'All Aboard The Train To Hell' ", well-known as a classic take on the journey against The Iron Master who is coming back to claim what he built. The freaks are back and hosting the greatest circus in town in "CIRCUS 'Big Top Terror' " and now, if you thought there couldn't be any more amazing and unthinkable mazes on a boat, you are ready for this one. They saved the best for last with the most heart-stopping story behind it in "DEADRISE ' Sink Into The Deep.'" Deadrise was a ship in WWII that sank to the bottom of the ocean but rises every year to take a visit with the captain of the closest ship–which happens to be "The Queen Mary."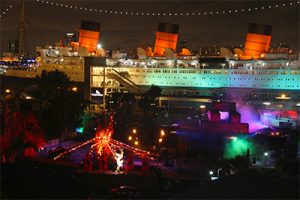 "Halloween Horror Nights" is a must visit here in Los Angeles! This year, they organized everything to be the most spine-chilling of them all. There are eight mazes that will have you questioning why you ever decided to enter. The mazes are all inspired by famous horror movies and shows. A show that helped inspire the mazes is the frightfully thrillling show American Horror Story with iconic characters from the show from each season. Also included are characters from the movies Saw3, Insidious, Ash versus the Evil Dead, The Shining. One of two mazes that are themed from three movies is the classic "TITANS OF TERROR" that has the three main charcaters that you think of when you think of horror, Leatherface, Jason Voorhees, and Freddy Kruger.
Joining the mazes, "The Horror of Blumhouse" is insipred by the movie "Happy Death Day" which will have you completely confused with deja vu. Also joining the maze collection are the "Purge" and " Sinister" mazes. The most exciting attraction is "The Walking Dead" maze in which you are being chased by zombies and there is nowhere to hide!