On a Mission to Send Students to College
Birmingham Community Charter High School (BCCHS) has been putting a big effort into creating students who are interested in going to college. Beginning this year, many academies, along with the college center, have been developing field trips for any grade to visit a college campus.
This year the sophomores became their own independent academy and they have organized many field trips for the sophomores (class of 2020) to attend. In the months of November and October, the class of 2020 visited over six different college campuses. Most of these trips provided college campus experiences for the students and were sponsored by the BCCHS Sophomore Academy. The Sophomore Academy also established a college-bound overnight field trip, in which sophomores visited UC Santa Barbara, UC Santa Cruz, Cal State San Luis Obispo, and UC Berkeley. The next field trip was easier to attend since it had no cost, and the sophomores visited CSUN and UCLA on December 1, 2017.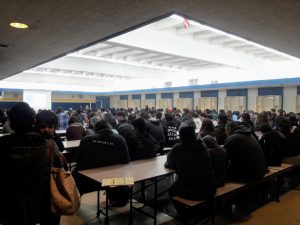 The BCCHS College and Career Center has also helped with this program for students to search for colleges near the valley area. Their first college field trip was at the beginning of the second semester. They invited juniors by notifying their families of the great opportunity to visit Woodbury University on January 19. This field trip was a success, providing students with new information about a college that isn't as well-known. The field trip had a total of 22 students and the two college counselors, Ms. Kronstadt and Ms. Cifuentes.
There were a select number of students that elected to go and BCCHS only allowed students with a GPA of 2.0 or higher be able to go.
Ms. Kronstadt and Ms. Cifuentes  also held a college night on January 25 in the MPR for juniors and their families to attend. That college night provided juniors with their PSAT scores, transcripts, and junior to-do list. The whole MPR was completely full with interested family members and students of all ages and grades. During the college night, Mrs. Krondstadt addressed a new program for juniors to practice the SAT at their own school library. The program is a month-long online study group that meet once a week after school in the library. The open enrollment for this program ends the second week of February.