2017-18 BCCHS Dance Team
Varsity Dance Team at Color Wars Pep Rally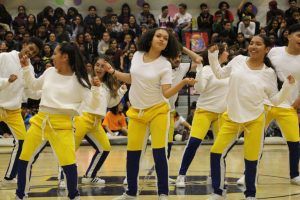 The BCCHS Dance Teams bring innovative, amusing, and spectacular routines to the dance floor and that is what makes them so unique and eye-catching. Many people enrolling or transferring to BCCHS find them very intriguing and many students want to join the team. Something very good and special about BCCHS Dance is that there are three levels, so everyone who tries out makes it to one of those levels.
First is the Varsity Dance Team. They perform at most events such as football games, basketball games, and pep rallies. They also go to competitions and compete against other schools.  The captains of our 2017-18 Varsity Dance Team are: Victoria Liera (12), Vanessa Liera (12), and Taya Dawson(12). This team shows how much passion they have for dance when they perform. They all have excellent technique and train to be the best during practice.
Choreography is a very challenging thing to organize and create because you want it to be unique and entertaining. "We feel the music, and allow the music to move us, instead of using the same moves over and over again and connecting them to the music because we have to make something up," said the varsity captain, Victoria Liera.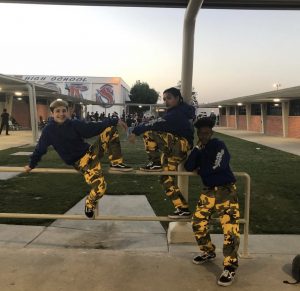 The second level is our JV Dance Team. This dance team was just recently created this school year 2017-2018. For their first year, they have accomplished many milestones such as placing first in competition. Most of the JV dancers were in the beginner's dance class last year.
Last, but not least, there is a beginner's dance class–which is amazing, because if you love dancing but need more technique and practice, this is the class for you. You get to perform at the dance showcase and get an excellent chance of bumping up to JV or Varsity the following season.
The dance program is somewhat new to Birmingham as it has been around for approximately four years. It is where it's at today all thanks to Ms. Mathis and the adult choreography instructors, Terry Bixler and Chris Dupre.  The Junior Varsity Team was just made this year. The choreographers make all the amazing choreography they present on stage,  "The choreographers the school hired are the ones who make the choreography for the competitions. However, the dance team makes the choreography for the pep rallies," said Victoria Liera.
A dance competition takes more than just knowing the choreography because what the dancers wear makes a huge statement. It sets the mood and tone for what you are about to watch. Our dance teams have well coordinated outfits, and that makes the audience wish you were with them on stage. "Sometimes we get inspiration from other people, but usually we just think of clothes that we have that will look good together." says Victoria Liera. "If I can, I'll add something to make it unique. I don't like being simple when it comes to performances, unless that's what the costume is supposed to be." said Vanessa Liera.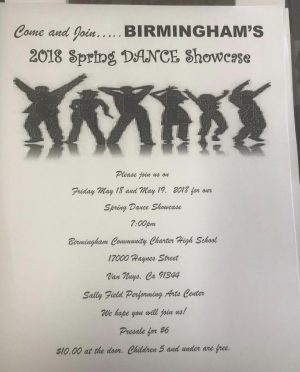 This Friday, May 18, and Saturday, May 19, at 7 p.m., there will be a dance showcase presented by all the levels of dance here at Birmingham. There will also be special guests from outside dance studios and high schools such as Taft. The price of the tickets are $6  pre-sale and $10 at the door.