Hollywood-Themed Winter Formal 2018
The ensemble that sophomore council came up with to light up the night.
The most anticipated dance that people wait for finally happened. Winter Formal is one of the many fun school activities that the Sophomore Council hosts. This year's Hollywood themed dance was hosted on February 11th, 2018 from 7 p.m. to 11 p.m. The Winter Formal was heavily planned by the sophomore council and publicized very well. The dance was held in the BCCHS Main Gym and there were food tables, a photo booth, a dj, a lit dance floor, and tables. Decor was made to mimic the typical Hollywood scene and how most people usually think about it. Yet it was beautifully set up to make the room look glamorous.

The dance was made to shine all night for those who love dancing. Almost everyone who attended were on their feet and having a great time. Aside from the fun music and dancing, the food was just as promising. Pizza was served as well as other snacks such as popcorn, twinkies, brownies, cookies, and other sweets. People were eating and dancing all night. The photo booth was also always a hotspot when it comes to a school event.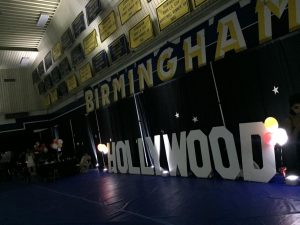 Not only did students dance all night but they also played video games in a video game truck outside the main gym by the P.E area. Students got to enjoy playing all kinds of different video games that the truck had to offer. The night was spent having fun dancing and making memories with friends.