Meet the Colorful iPhone 11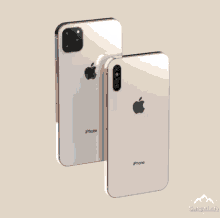 During fall 2019, Apple announced that the iPhone 11, 11 pro, and 11 pro max offer powerful, new features. It was released on September 20th and is still available today. One of the new physical features for this iPhone 11 is the camera. Although the iPhone 11 doesn't have it's iconic three cameras, the iPhone 11 Max and Pro have this feature. The iPhone 11 Max and Pro both have the dual-lens camera array. The extra lens is an upgrade to any previous iPhone cameras. The new secondary sensor is a 12-megapixel, ultra-wide angle snapper, capturing much wider shots due to the 120 degree lenses. Apple did an excellent job with the camera. Taking pictures can now capture details, the dynamic range is way better, and it gives you a range between the lighting elements of the picture.
When it comes to its battery life, the iPhone 11 lasts for about one hour longer than the iPhone XR. Although it's nothing new, this feature is pretty cool. You can wirelessly charge it using a variety of chargers. For those who are concerned about dropping this phone onto any solid or liquid you'll be alright! Apple has said that they've improved the durability of the iPhone 11.
It's also water-resistant for 30 minutes and up to 2 meters. So if you often go to the pool or the beach, this is a nice update for you! Another new physical feature that Apple has added are their new colors. There are six different colors that consist of, product (red), black, white, yellow, and purple. Overall the iPhone 11 will be for about $699. The price for the iPhone 11 Pro will be $999, and the 11 Pro max will retail for $1,099. If you choose to buy any of the 11's, you'll have a great time with your new phone!