"Sex Education" is Back in Business in Season Two
Sex Education is back! It returns with season two continuing the ending of season one. The plot carries on with old and new characters developing with the storyline. Sex Education is a Netflix original British teen comedy drama series created by Laurie Nunn. Starring Asa Butterfield (Hugo, Ender's Game) who plays a socially awkward teenager named Otis. His character, seventeen year old Otis, doesn't really have physical experience with a partner in a relationship yet, but he gets good guidance on the topic of sex education from his mother Jean, who's a sex therapist. So with the knowledge about the topic, Otis decides to team up with Maeve, the smart bad girl in his school, to set up an underground sex therapy clinic. 
Somehow this show combines light, funny, heartfelt, and maturity. It fits into a lot genres but it's a nice blend to it. The title suggests more than you think. There's a lot of raunchy scenes, but throughout the show, it focuses more on how sex affects teens socially and mentally.  It isn't just about sex, it's also about learning self appreciation, respect, and living your life as best as possible with the people and the choices you have in front of you.
It never judges about anyone's sexuality or desires but instead it teaches people that it's okay to feel the way you feel. It's okay to be confused and it teaches the characters and the viewers how to deal with those feelings.
The writers aren't scared or hesitant to show how flawed anyone can be. The plot is great and holds some heavy topics like: abortion, LGBTQ+, and sexual assault. The show makes you remember that in any type of situation you're in, you're not alone. The writers handled it quite maturely and managed to be funny as well.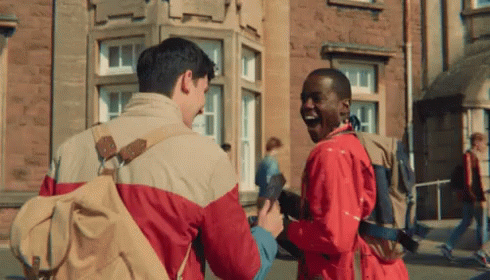 What I found interesting about this show is that it doesn't separate each characters' stories. Instead, each character muddles into everyone else's story. The three main characters have a beautiful relationship throughout most of the show. Otis and his best friend Eric are both lovely; they're both supportive and understanding towards each other. Along with the side characters, not only do they represent people of a diverse sexuality or color, but they are also people who have opinions and problems of their own. The cinematography of the show is absolutely wonderful; the use colors on the show make it pop. The set design is beautiful as well. Due to the reason that the show has no specific year it takes place, it manages to have 80's clothing and possibly 90's cars. 
Not everyone is going to like this show, but in my opinion, I love this series. The show's main audience is teenagers and adults because they still have a lot to learn. Although it may not be the type of show parents that would want their teenagers to be watching, it digs into deeper topics and discussions from which everyone could learn.