Ariana Grande Releases Amazing New Album, Positions
Reign Cruz, News/Front Page Editor
December 8, 2020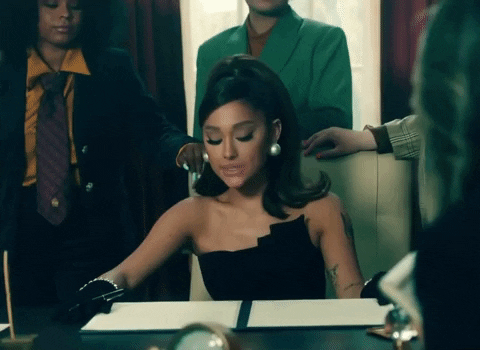 Ariana Grande has finally released her highly anticipated sixth studio album, Positions. This album has a mature and distinct R&B sound and was released on October 30, 2020, through Republic records. The 14- track set features other artists such as Doja Cat, The Weeknd, and Ty Dolla $ign. Grande first released the title track, "Positions", with a new music video on October 22, 2020. She also announced on Twitter that a full album was coming on Friday.
Grande has kept busy this year collaborating with Lady Gaga's "Rain on Me" and performed together on MTV's Video Music Awards in August, and wrote a single with Justin Bieber, "Stuck with U." Not even a week into November, her new studio album, Positions, has received a lot of love from fans after its release. Its lead single debuted at No. 1 on the Billboard Hot 100 singles chart. Before diving deeply into the album, you'll find more than just smooth melodies and catchy hooks which, are some of the things I love hearing in her songs.
In the above interview, she discusses the meaning of the songs in the album, the process of the album, her family, her past, and much more. She also discusses how Positions is different from her previous albums. Grande mentions that she was very excited to focus on narrative and making fun bops for a little while, and how she misses singing more. She continues to relate how nice it is to be creating from a more healed place.
Grande knows that many people loved her previous album, Thank U, Next, and knows that others want her to always make something like that and she's happy that it was executed as well as it was. Fortunately, she's happy that she's not in that kind of pain anymore and to be in a new chapter. She states in the interview, "I think the goal was to create something that felt more vocal and more healed as a reflection of kind of where I am at."
The album does involve explicit lyrics so younger listeners, and parents, should be advised. Starting with the first song in the album, "Shut Up," she comes off as fearless and unapologetic. It's a song where she sings about herself and addresses her haters by telling them to "shut up" and to stop spreading misinformation about her. The lyrics are straightforward, honest, and sassy. She goes off at her haters with the lyrics asking how everyone else how they have been spending their time and how they've been using their mouths in the last few years.
Indeed, over the last few years, she did get involved in personal issues and public drama. In the song, she also sings/talks about how she just loves her music and works hard to succeed in what she loves doing.  She also sings about keeping her mouth shut, probably on social media, because she doesn't want to be involved in any unnecessary drama in her life.
In the interview she also explains, "I think sonically it feels like an intro to me. And also kind of just starts it sets the tone with like, "Hey this is the level we're vibrating on. Let's rise above all the bull. Let's celebrate what's good. Let's be who we are and say shut up and block out all the negativity because let's embark on a fun, beautiful, musical journey and sell everything else to show."
"34+35" is the second song in the album and it's pretty much self-explanatory. One of the interviewers confirmed that he didn't do the math and didn't know what she was referring to the whole time until he got to the end of the song and she absolutely loved hearing that. So you should listen and understand it on your own unless you're young. Along with another explicit song in the album, "Nasty", which is the ninth track on the album where she basically sings how 'nasty' she wants to get with her partner all night.
With this new album, many fans speculate that she's mostly talking about her current relationship right now. Although many fans also speculate that she's hinting how she still loves her ex-boyfriend, Mac Miller, from her fourth track called, "Just like Magic." In this song, many fans debate if she's singing about how she manifests what she thinks to achieve and it pays a tribute to her ex-boyfriend, Mac Miller. In the song, it mentions how much she still loves him by penning a love letter to heaven, where he is now (R.I.P Mac Miller).
The third song in the album is called "Motive," featuring Doja Cat, and is the song that's kind of like a guessing game of what someone wants when they're into you. "Six Thirty" is the sixth track on the album and it's one of my favorite songs. It's about how she wants her and her partner to be committed and be there for each other during all hours of the day. She also explained in the interview that 6:30 meant that both hands of the clock are pointing 'down,' which is a creative way of her saying to her partner, "Are you down to spend your life with me?"
"Safety Net", is the next song after "Six Thirty" and features Ty Dolla $ign with its slow jam type of sound. The song is mostly about learning to open oneself to love again after the pain of lost relationships and allowing yourself to be vulnerable without a safety net. "My Hair" is the eighth track on her album and she puts herself in a vulnerable position and invites her partner to caress her hair. Caressing someone's hair basically means that she's showing trust towards that person and it's something deeper than just sex.
Following the tenth track on her album, "West Side," she's tired and has been through too much waiting and she wants to jump right into this relationship and feel the real thing. "Love Language" is the eleventh track on the album with a more jazz and R&B sound to it. The song dives into the topic of her partner making her happy and hinting that he helps her with her mental health.
"Positions" is the twelfth track on her album and she sings about how she's willing to do anything for her relationship. The music video shows she's in the highest position in the land and she sends a message that a woman can be successful, powerful, and independent–all while being able to nurture a positive and healthy relationship."Obvious" is the thirteenth track on her album and she sings a sweet romantic track confessing her true feelings for her partner.
"Off the Table" is the fifth track on the album and features her collab with the Weeknd. Their vocal chemistry is on a completely different level and they've come a long way since "Love Me Harder." She sings how she's worried that she might not be able to love again after her past relationships. She acknowledges her heartbreak, but she has found someone else who might finally help her move on. The song is one of the most emotional songs on the album but it offers a look into her headspace and healing process.
Another emotional song on the album is called "Pov," which is the fourteenth and final track on this album. The title of the song is the abbreviation for "point of view," in which she wishes that she could see her partner's perspective to understand why he loves her so much. "Pov" is another one of my favorite songs that I love listening to on the album because it's such a sweet tribute to her lover for loving her for the person who she is and how she's learning how to love herself the way he loves her.
Ariana Grande is one of my favorite artists to listen to. She's very creative, wise, and passionate about her music and it shows up in her work. I love this album a lot and it's been on repeat for me since its release. This album explores self-love and self-esteem, insecurities, passion, romance, sex, moving on, vulnerabilities, etc.
All her albums feel so personal and real. Her previous album, Thank U, Next, has helped me go through a hard time and helped me stand on my feet again. I'm glad that she knows how important her music is to everyone right now. Her album was one of the things I looked forward to and it feels like a new chapter of new music.