Spotify Launches a New Device for Driving: "Car Thing"
Say 'hello' to a new smart accessory, Spotify Car Thing. It's a smart player from Spotify that fills your car with music, news, entertainment, talk, and more. It allows you to listen to everything available on Spotify without having to use your phone.
It's a limited launch for Car Thing and is exclusive to the U.S. and is available on an invite-only basis. The smart accessory is free of cost for a limited time but customers will have to pay for shipping and the anticipated retail price for Car Thing is $79.99. Spotify Premium subscription is required to use Car Thing and customers on a free trial of Premium will have to forfeit their remaining trial period to buy Car Thing.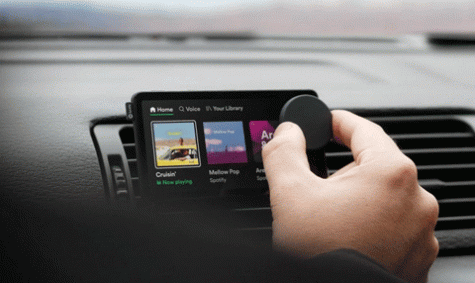 Spotify Car Thing has plenty of features. It has a 3.97-inch touch screen with 480×800 pixels resolution, a large dial, and another button on the front. The dial can be used to navigate, play or pause, select, or you can just use the touchscreen. At the top of the gadget, you will find four preset buttons and a settings button. It uses BlueTooth 4.2 to connect to any phone that runs on iOS 14 or Android 8 or above. It can be mounted on the CD drive slot, on the dash, or on the air conditioning vents.
This gadget can use voice controls with the phrase, "Hey Spotify" and you can ask it to play your favorite artists, playlists, news, entertainment, podcast, and more. It responds to your commands to help you discover more of what you like and to make your driving easier with anything you want to hear. It also allows you to make or receive calls, use navigation, get notifications, and plenty more if your phone is connected.
It is only available to purchase, one per person, and you can join the waitlist to get yours!