2021 Knott's Scary Farm Scare Zones are Frightening
This Halloween, the 15 Doors Halloween Attraction will begin once more at Knott's Berry Farm, which transforms into Knott's Scary Farm every fall. From September 16 through October 31, they will have some new attractions featuring scare zones.
Every night, these Halloween creatures will spill out onto the streets and turn the park into a scare zone. In total, there will be over 1,000 horrifying creatures that will be lurking in the fog of the park. The famous Ghost Town will have an area full of evil clowns, so there will be nowhere to hide.
Tickets will be $50 for a normal scare and $109 for the fast lane. This pass gives access to all the mazes and prevents you from having to wait for the long lines for Ghost Rider. Tickets for parking will be $2o at the entrance.
In addition, there will be shows such as "Wicked Drums," "Invitation to Terror," and "Doce de la Noche." At midnight the electric dance group takes the stage. It will be a fun time to spend with friends and family.
They will also have a bunch of new and different entertainment throughout the park. Some rides will be added on for Halloween this year such as "Dark Ride" which is an abandoned carnival where dark things linger around. Some of the food selection Knott's will offer includes: pizza, burgers, mac and cheese, and midnight funnel cakes. Also, each maze will have its own theme, such as clowns, waxworks, mummies, paranormal inc., and more.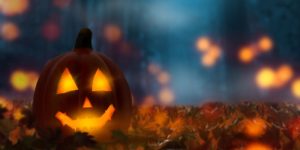 Knott's now has a mobile app where you can see all the new attractions that will be featured. It will also give you a whole guide and help you know what to expect when you go to scare zones, directions, and etc.
Carnevil is where the freak show happens while the main event is full of different clowns that will crave your undying attention. There will also be a puppet show which is from 8:30 pm to 10:00 pm. They ask for participation from the audience to be topped with the zany antics of the colorful and brazen puppet cast. This is only for mature audiences, however, for its content.
Meanwhile, Forsaken Lake is a scare zone that will be returning this year. It was kept hidden until now. The attraction will unleash creatures from the dark fog and murky water. This year they call it So-Cal's largest and most haunted Halloween event with sinister shows and mazes. Eli, a 10th grader at Birmingham said, "I've been there and I love the way they scare you, I personally thought it was a fun experience." Another student named Frida said, "I haven't heard about it, but it sounds fun."