Shawn Mendes and Camila Cabello Use Instagram to End Relationship
Back in November 2021, singers Shawn Mendes and Camila Cabello finally called it quits after two years of dating. Mendes and Cabello both issued their breakup via Instagram story.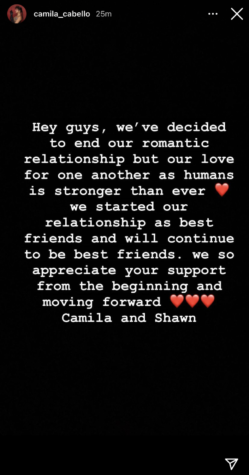 Many people had a lot of questions, especially those who always saw them together forever. This has been a very questionable subject because a month prior to the breakup, they posted a picture in matching Halloween costumes. There were also many rumors of an engagement, but clearly, that was nothing more than gossip.
They adopted a puppy back in 2020. His name is Tarzan. Many fans were concerned about him after the breakup.
The couple both decided that Cabello should get custody of the dog, but Mendes was very attached to Tarzan since he brought him peace and happiness. Although Cabello now has the dog, Tarzan will always stay in Mendes's heart.

Camila Cabello just dropped her latest album Familia, on April 8, and it is a mix of English and Spanish music. that explores both the joy and pain she has gone through. There are a handful of songs that talk about both Mendes and Cabello together and apart.
Mendes also released two new songs after the breakup, "It'll be okay," and "When you're gone." These songs talk clearly about the breakup between the two and how it has been both the best and worst thing he might have done.
Since last January, both singers have been open and talked quite a bit about the breakup. They have nothing but love for one another. They have kept everything very positive, without negative comments.
They have said in interviews that the love they have for each other will never change and they will always be there for one another.