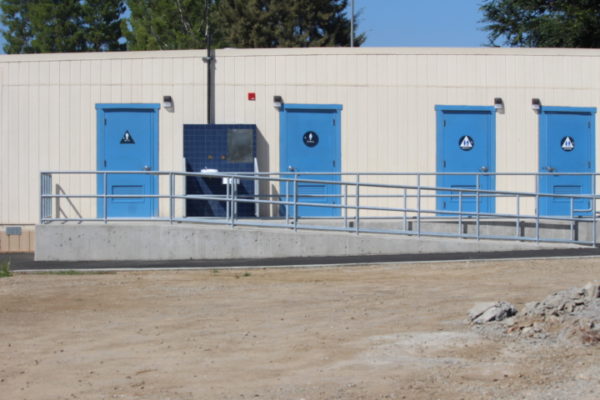 For the past two years, BCCHS has had two major bathroom constructions. One of them is the construction near the softball/baseball fields, and the other one is located at the end of F and G halls in the 400's area. There is more construction activity near the softball and baseball fields, and if you pass by, you can see so many more improvements than in the 400s area because that is where construction is still happening.
These are the most important concerns that people have been wondering about on campus. How much impact will these projects have on our school campus?
The classrooms in the 400's have been opened, but there aren't any teachers assigned to these classrooms yet. Many staff and students pass by this area in the 400s and wonder when will they finally decide to open them. They have been up and running since December of last year, but construction hasn't finished the project in over two years. The amount of time and effort put into these construction projects has been constrained because they have had many opportunities to come and work on the project while the students don't have school or get out early.
Many students, including this reporter, have been asking questions about when the projects will be officially done. We've seen some improvements in the construction at the end of G hall.  These projects were supposed to be done in mid-May-April of this year, but they still haven't been completed.
Story continues below advertisement
There are so many questions surrounding this topic. Many teachers and staff want to know when these projects will be done so that the classrooms can be distributed evenly. This way, the students don't have to deal with being cramped in their classrooms because many students are also complaining about how small their classrooms feel.
Our principal/CEO Ari Bennett stated, "We paid many years ago for an architect to drop the construction plans and LAUSD approved the plans, and then, as we're going through the project, LAUSD decided they wanted to change the plans that they had already approved." This caused a major setback for the construction workers to come and complete the 400s throughout the year. The question remains, why did LAUSD decide to change the plans for the construction when they had already approved them? LAUSD changing the plans wasn't something that Mr. Bennett expected, and it was something that he didn't think would happen during construction.  I asked him when he thinks they will open and he exclaimed, "I can't give you an exact date by when they will open." 
The students hope they can wait it out for these construction projects to finally open.  They are the main projects on our campus and they have been "in progress" for almost two years.    Many setbacks have affected this construction, but the students will have to wait patiently for crews to finally finish.