2017 Birmingham Pop Concert
Maya Wilson, Arts and Entertainment Editor
December 1, 2017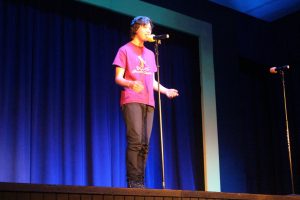 Would you like to hear a heartfelt performance by a Birmingham student?  Well guess what, BCCHS hosted its annual Pop Concert. This concert is one of the many fundraisers held by the choir class, run by Mr. Michael Suffolk. Made up of male and female vocals, with males being in the chamber choir. The choir classes get to compete against other schools around the United States in the "The WorldStrides Festival," and this year, the chamber and women's choir are both going to Chicago. In this pop concert, students from either chamber's or women's choir can participate in the concert. Excellence in delivering the performance is key to grasp your shot for the concert.
Kiara Bradley (12), from both the women's and chambers choir, felt "excited about being in the Pop Concert because it is my senior year". Giving Bradley her last year to sing with her Chamber and Women's Choir. She adds that the fundraiser is for Chamber and Women's choir trip for the WorldStrides Festival. The fundraiser is for the whole class of women's and chamber's students. Students here at Birmingham have had family and other friends coming to see their friends, sisters or brothers.
Family, friends, classmates and even previous students came to the Pop Concert to cherish the moment their loved ones sang on stage with an amazing performance. Before the concert, women's choir sang "My Angel" and after the concert, Chamber singers sang "Don't stop Believe'n". The students who were chosen for solos sang their favorite song they chose to sing in the concert. You may wonder, how did the students that sang on stage get up there and sing?  To begin with, the Pop Concert students in Chambers and Women's Choir sing in front of the class for a grade/or sing on stage depending on the students choice. If he or she wants to sing on stage or just get a grade, that is acceptable, but it is mandatory that students that are in Chambers or Women's Choir sing in front of the class either during lunch or class time and if the student wants to sing on stage than he/she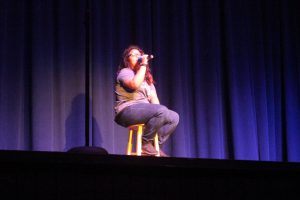 must sing in class and Mr. Suffolk determines if that student is eligible to sing on stage for the Pop Concert.
After all of those selections, students who sang in the concert were cheered on by their families and friends, and this experience for the seniors meant a lot to them. Keiaira Bradley and other seniors that were part of this had to say this about the show–that it was their only Pop Concert and that they were going to make a great memory of this moment. When the concert was over, the seniors had a great time singing as most of the solos were sung by seniors.
The seniors now have a great experience and memory to keep in their minds about their experience at Birmingham Community Charter High School.