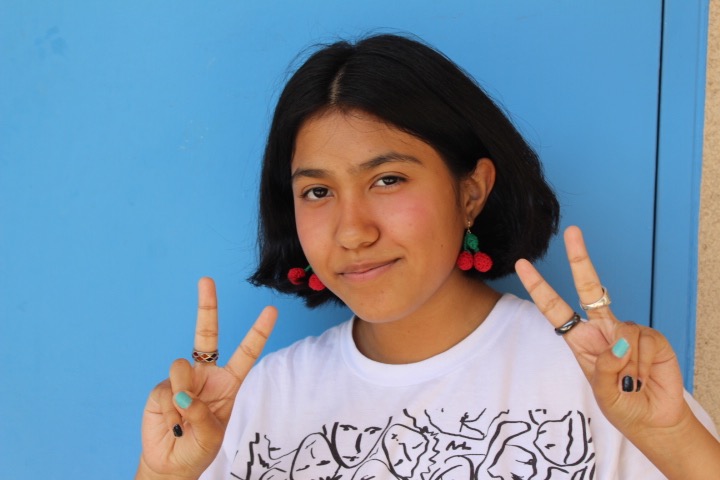 As a junior at Birmingham Community Charter High school, Nathalie prefers her nickname "Nat" due to the fact she always found her full name much too professional. Currently at school, she is the vice president of the FIDM Fashion Club and a proud member of the Patriot Poets Society Club. Her favorite classes so far in her high school life are her honors English class from freshman year and her AP European History class from sophomore year. However, this year she is enjoying all of her classes. Nat wants to spend her time at The Patriot Post writing stories that can spread awareness on topics that need to discussed. Not only that, but with her love of pop culture and weird history, she wants to make pieces that can make people laugh and forget about the stress of that day. 
Most of Nat's interests are just different forms of art. She draws, mostly characters and different cartoon flowers, in her spare time. Her favorite type of medium is a fine tip pen and watercolor - with a strong dislike for color pencils. She discovered her love of cartoons from the insane amounts of time she spent in front of a TV instead of playing outside with other kids; this explains a lot of why she's awful at sports but loves art. This love of cartoons grew into a love of TV shows and movies through her current teen years. According to Nat, she went through a phase in which she pretentiously called movies "films" or "motion pictures".  Nat is always happy to talk movies with anyone. She loves most genres from cheesy romantic comedies that never fail to make her cry, to critically acclaimed movies. Her favorite movie is the 2017 movie Call Me by Your Name. Nat has probably watched that movie more than six times. She has cried every time and loves to analyze every part of it. Nat loves exploring music as well and loves when people recommend songs that they love. As she likes a broad spectrum of movies, music genres aren't much different--from classic rock to pop to even some country music. Her favorite song always changes, but for the last two years, it has always circled back to Harry Styles' "Woman."
Nat also has a very large amount of obscure weird history facts. A uncommon interest of true crime, ghost stories, and idiotic facts about history--like the fact that Michelangelo and Leonardo DaVinci, two very famous renaissance painters, hated each other with a passion and would often get in aggressive arguments in the street. Afterwards, they would make nasty comments about each other's art. Nat loves the Renaissance and personally believes that without it, the history of mankind would not be the same.
One of her dreams is to be able to travel all over Europe--especially Italy, for the art. The only downside of that dream is that with a simple plane ride ,she gets very sick.   As indecisive as she is, this love of history makes her believe she wants to major in history or art history but then she has other ideas in mind like:  journalist, director, paleontologist, illustrator, comic book writer, costume designer and so many more that only time will tell. As for now, Nat is very excited for this year and to continue writing. 
Nathalie Ceja Gomez, Arts & Entertainment Editor
Feb 25, 2020

The Failure That is "Cats" the Movie

(Story)

Jan 23, 2020

Harry Styles Announces New Album in a New Way

(Story)

Dec 18, 2019

Disney+ Is Worth the Extra Cost

(Story)

Oct 07, 2019

The Scary Stories from Our Childhood Come Back to Haunt Us

(Story)