2018-19 Birmingham Cheer Team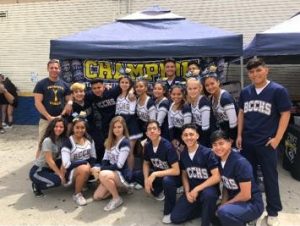 This year's 2018-19 Birmingham Cheer Team has already accomplished more than most high school cheer teams. Birmingham's cheer team has grown larger over the years,  and with the new school year starting, they've just completed tryouts. The sport of cheerleading has grown to be more successful in the last decade, not just at Birmingham, but all across California, and it's finally been recognized as a CIF sport. This is well-earned, considering that they cheer at football games, basketball games, pep rallies, cheer competitions, and various school events.
Cheer has always been recruiting new talent for the future. We spoke to cheerleader Daria Alatorre (11) and she really hopes that her squad can go back and become L.A. City Champs again. She also said that they have to go defend their title. She is very hopeful for the future and noted that four boys also tried out for Cheer. They all made it!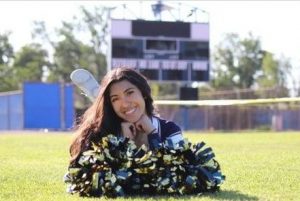 Alyssa Dvorak (12) also spoke about her time in cheer. She stated that about 150 students tried out for cheer, and only 50 made it. Alyssa is a senior, and in her two years of cheer, she has had a lot of fun with her fellow team members. She says that learning new skills, new stunts, and bonding with her teammates is splendid. Personally, she said that cheering for football is much more enjoyable than basketball because students are generally more engaged with football since at football games, the cheer team is engaged in cheering during the whole game.
Alyssa also said that cheer isn't too difficult of a sport since it's unique. It's almost mystifying to think that cheer is truly a one-of-a-kind sport. She and other teammates may agree with her when she says that an additional cheer coach would help tremendously.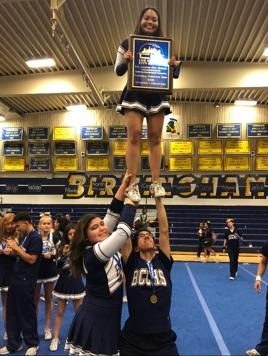 BCCHS Cheer Coach Mr. Devon Saxon spoke fondly of working with the cheer team. He noted that cheer championships work in a clockwork fashion where teams have to go through league, regionals, then city championships. BCCHS has won all of those titles. Saxon stated that cheerleading can be one of the most dangerous sports to join; cheerleaders can actually get concussions when they're doing stunts, which is surprisingly common.
Saxon considers his job to be draining, but also rewarding for him and his cheer squad. He expects his cheerleaders to make it to the CIF Championships again so it could be a back-to-back win. Saxon said that he has been teaching at BCCHS for about three years. When asked if he enjoys teaching his Cheer squad, he said he loves it. When asked if he wanted to change anything about Cheer, he said that he wouldn't change a thing– if it isn't broke, don't fix it!
This year's cheer squad has enough reason to motivate themselves to continue to work hard and succeed and defend it's city championship. Although it'll take tons of work, effort, and enthusiasm, they'll just have to keep at it to be victorious.