Patriot Girls Golf Team Making Strides
The Birmingham Girl's Golf Team participates in a fascinating sport that should be highlighted more than it is. Golf is actually a rigorously-challenging sport, a fact most students may not have been aware of. Most people don't know enough about golf–that is, have less information about it–which is why it's looked down upon. This has to do with people not knowing what the sport consists of and how it works.
After discussing this issue with the coach of the golf team, Coach Kelly, he elaborated and told me more about this interesting sport. He explained a few important things to know about the golf team, mainly that there are currently 6-10 players on the team. Coach Kelly went on to say that more students should join golf because it's a sport where you can learn new skills, and develop business connections with other people.
He also explained how it's an expensive sport and few schools offer this. This sport can be seen as unpopular by many high school students. It's sometimes seen as an "old people" sport because you don't have to make a lot of movement and shift around, unlike many other sports in which this isn't the case. After all, it can also easily be done by young students for fun.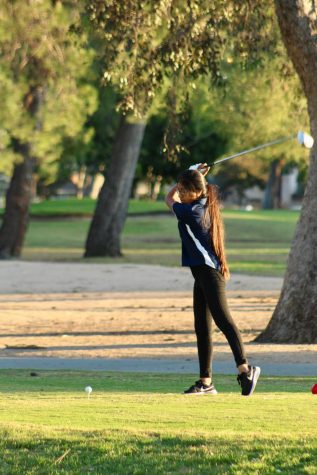 Our school, Birmingham Community Charter High School, doesn't have a golf course, so you may be wondering where the golf team practices. Our Patriots actually take a bus to El Cariso Park in Sylmar. This is a park to where our team buses every day for practice during their season. Usually, the team all comes back by the end of 8th period, with the latest return being at 5 p.m. The key to winning in golf is by having the lowest score, such that if there are 18 holes, then you see who'll take the least amount of strokes to win. This is a great sport and, as coach Kelly said, "an opportunity to get better."
This journalist also got to interview the best current player in the team, freshman Sarah Amaya. She went in depth about her passion for golf and stated that this is a great opportunity to meet new people, as well as other great benefits. Amaya said she's played golf before she joined the Birmingham golf team. She had been in a golf club and has been involved in this sport since the age of five. She mentioned that at seven, she had her first golf  tournament, and this only made her want to improve. After winning her second tournament at age eight, this victory set her mind to stay longer and become the best she could be.
After discussing golf with her, she explained the difference between golf and the game mini-golf, mentioning that they are, in fact, really different. She explained their difference in that "[golf is] harder than mini-golf." Maya notes, "many think it's easy but golf much harder than it looks."
Amaya is one of the best and is really good at competitions. Maya mentioned that "it comes naturally and it would feel different if I didn't do it."  She further explained that she wants to go to Arizona State and hopes to become a golf pro in the future. This only shows how passionate her love for golf is. This love of the game makes her a great candidate to become a championship golf player and encourages others to join the sport.