Improving Grades During a Pandemic- How a BCCHS Senior Took Advantage of Online Learning
While many students' grades have taken a hard hit during virtual learning, others have found a way to thrive during these abnormal times. Nikkolas Arceo, a senior at BCCHS, has used distance learning as an opportunity to improve his grades.
As we transitioned to all-online learning, Arceo created a new mindset and set a goal for himself of getting straight A's, with the possible exception of one B. Before the shutdown, Acero said in-classroom learning was "stressful, having to worry about your grade every second while the teacher was changing the grade or setting up a meeting to explain why your grade is failing."
Online learning has been a completely different feeling. He hasn't been stressed out by the amount of work given and has been able to improve his grades. He feels that online learning helps create a stricter learning environment where it's up to him to get his work done and turned in.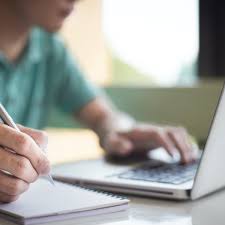 This is better than the feeling of looser flexibility he felt during in-person classes. Arceo also stated, "I actually prefer online. Yeah, I know I said it was strict with the assignments, but other than that, it's flexible in other regions such as turning it in early or on time due to having so much time on your hands."
When asked if he felt he didn't meet a personal standard of quality in his work this semester, Arceo replied optimistically, "No, because there will be more assignments that you can do to bring up your grade." He stated that getting good grades makes him feel proud of himself and helps with college preparations–as well as providing him with bragging rights.
Arceo's advice to others wanting to improve is to just do it as there is no need to sit around and wait till the last minute. He stressed the importance of a persistent mindset rather than just thinking "oh well!" and not doing an assignment. Arceo's improvements are a great example of really setting your mind to something and doing it!