Tom Brady Coming Out of Retirement After 2 Months
After a very short two-month retirement, the 7 time Super Bowl champ future Hall of Famer Tom Brady is coming back for his 23rd season! Announced on Twitter his decision to "unretire" and return for a 23rd season on Sunday night in news that shocked the sports world. "These past two months I've realized my place is still on the field and not in the stands. That time will come. But it's not now. I love my teammates, and I love my supportive family. They make it all possible. I'm coming back for my 23rd season in Tampa. Unfinished business LFG", Brady wrote.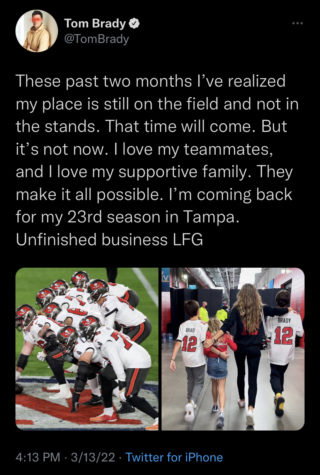 Brady had originally announced his retirement on February  in a seven page long Instagram post thanking his teammates and family for the career he had. Now, Brady is coming out of retirement to attempt to lead the Buccaneers to their 3rd straight playoff appearance, after winning Super Bowl LV with the team in his first season in Tampa Bay. A number of his former teammates, including Buccaneers tight end Rob Gronkowski and Patriots running back Brandon Bolden, also predicted Brady would return to the field.
Brady's return significantly impacted next year's Super Bowl odds. The Buccaneers, who were +2800 before Brady's announcement, moved to +750 after Brady's tweet, tied for the second-best odds to win the Super Bowl in 2023.
With Brady coming out of retirement, the Buccaneers hope to reach the Super Bowl and win for the 8th time in his career.