As many of us might know, Ed Sheeran is no stranger to success. Sheeran's career as a musical artist started in 2005, and as of today, Sheeran has about 77.4 million monthly listeners on Spotify. The global icon from the UK has released seven studio albums in his career, and it's safe to say that he hasn't disappointed with any of his albums. The seven studio albums are Plus (2011), Multiply (2014), Divide (2017), No.6 Collaborations Project (2019), Equals (2021), Subtract (2023), and most recently Autumn Variations (2023).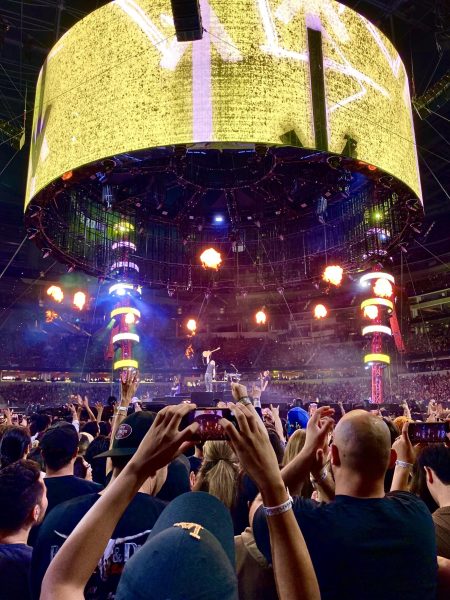 He finally made his return to Los Angeles on September 23, 2023, at SoFi Stadium where he broke records. There were 81,000 fans in attendance that night–which ended up breaking the highest single-show attendance record at SoFi Stadium. This tour was called the "Mathematics Tour" which was based on his first five albums.  This was his first time being back in Inglewood, where he performed for the first time in the United States.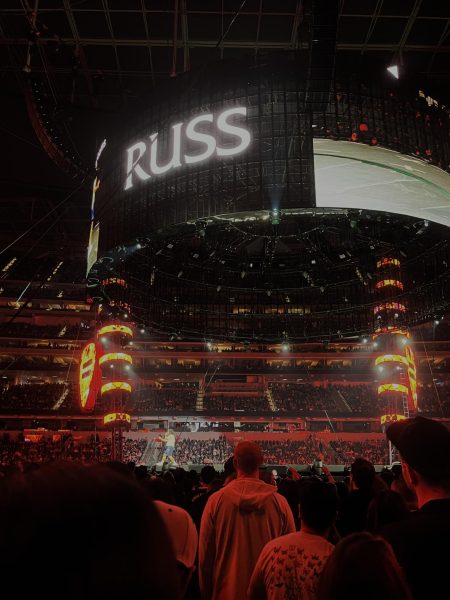 The opener for the show was a popular artist named Russ, and he posted all over his social media which songs he would be performing, so many of his fans were hyped up.
He played many of his famous songs like " Missin You Crazy,"  " Cherry Hill," and "Psycho Pt.2. "   The vibes were crazy, and you could tell he put a lot of work into his performances because all of his fans were singing and having a great time. Then came two of his last two songs and he said, "Here are the songs that put me on the map." The first one was "What They Want," and the last was his famous song "Losin Control." The whole crowd went silent and turned on the phone flashlights and as soon as Russ started to sing, everyone else joined in too. Hearing this song live was an unimaginable feeling and it even felt better hearing the crowd singing and swaying to the flashlights. It was really an experience that no one could take away–which made the moment even better.
Story continues below advertisement
Russ really outdid himself with his song choices and the vibes he brought to such a huge crowd. He stated that he prepared for this concert for a while so it really did pay off, and hopefully, he will be back soon and maybe even have his own shows.
Shortly after Russ finished his performance, a dome dropped on top of the stage for about 15 minutes, then a countdown started from 10, and the crowd also counted down, and when Ed Sheeran was finally on stage performing, the whole stadium went crazy. You took a look around the stadium and you could tell that there were no empty seats at all. He performed many of the songs from his albums, but given the chance, he played songs from his new album for the first time and everyone loved it.
Sheeran also brought amazing vibes with his music, but also because he interacted with the crowd and everything was awesome. Later on, he said, "I am going to play a song I wrote, and I hope you all know it." He then started to play "Love Yourself," which brought everyone together. Toward the end of the concert, he played most of his famous songs like "Shape of You,"  "Photograph," and "Thinking Out Loud," which everyone was waiting for. Finally came his song "Perfect" and the lights dimmed down and the flashlights from the phones lit up from all over SoFi and everyone started to sing. The vibes and feeling were unexplainable, you just had to be there to really feel what happened as there were no words to express this feeling.
Once "Perfect" was over, Sheeran would go on and thank his fans for coming out to the concert. Everyone in attendance began to cheer for him and soon started exiting the stadium. As stated before, this was very surreal to experience firsthand. The very next day, Andrew and I went out with some BCCHS friends, and we asked them some questions about Sheeran. We first asked Terrell Dorsett (12), "What are your personal thoughts about Ed Sheeran?" He responded, "I believe Ed Sheeran is an unbelievable musician. He has that gift of a musical artist that makes all songs enjoyable. He also brings a form of nostalgia to the table with his older albums that give one that unexplainable feeling." We later asked Issac Salmeron (12), "What is your favorite song by Ed Sheeran and why?  He said, "I'd say my favorite is "Perfect" because my girlfriend and I listen to it together all the time."