Back to Back Champions?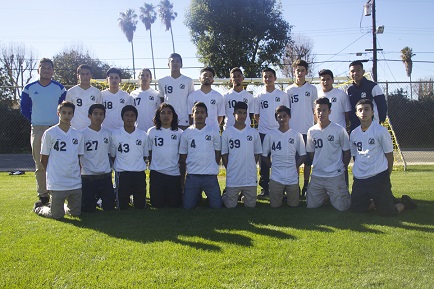 This season, the Boys Varsity Soccer Team find themselves reaching out to secure a playoff position. The team won the City Division 1 Title last season making them the defending champions coming into this season. However, the team has lost the majority of the players from last year's championship team and are currently playing to position themselves into a playoff spot.
In an interview with the soccer coach, coach EB Madha was asked about the incoming players compared to the ones who left. He stated, "You know last year's seniors were special, and I don't think that I can compare them with the younger, incoming players. What I do like is that the new players have talent, and they just need the experience of the next one or two years.  I think they will be as good as my team was last year."
After a season going up and down, the team is rising in the rankings and currently find themselves in 4th place with a record of 4 wins, 3 losses, and 1 tie. The team is in the midst of securing their playoff spot with two games left in the season. There last two games will be played against Taft, on Wednesday February 11th, and Cleveland, on Friday February 13th.
When asked about whether or not the team has changed their style of play, the coach responded by saying "We play a high pressure game on the other team, as we try to attack all times, and that's the trademark of Birmingham's teams year in and year out for the 13 years I've been here." 
So, with two games left to play, the team finds themselves with a good chance of clinching playoffs. They have been on a winning streak lately and hope to carry the streak on into the playoffs. They have all the tools necessary to be a dominant force in the postseason and attempt to win back to back Division 1 Titles. We await to see the outcome of the 2015 season.
"Granada is a very good team; but we get them on our home field and, I think, the boys really want that game" said E.B. Madha, BCCHS soccer team coach interview before the game against Granada Hills' team where the Highlanders defeated Birmingham's team, even though all the preparation the team had for this specific game. The game was not going to be easy, the coach knew it "they're a very good team… they're older than us, they're faster than us… and they're very well organized".