New and Improved Wi-Fi System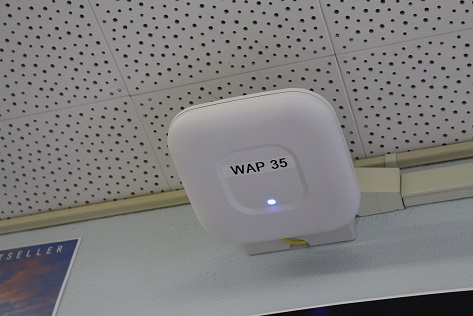 Wi-Fi
            Many people know that the Wi-Fi system has recently been upgraded, but they do not know the reason why it was upgraded and what it does now versus what is used to do. There were many problems with the old Wi-Fi service that made it slow and inefficient. One of the major problems with the old Wi-Fi system was that it didn't have enough access points. The access points for Wi-Fi in the school went from 50 to 350 which is much more than before. "The technology was old" said IT Technician Roberto when asked about the Wi-Fi before the upgrade. The old Wi-Fi service was 10-15 years old and it was very slow.
After the fix, the Wi-Fi system is now able to do more things than it has ever been able to do before. Since the Wi-Fi is updated, the connection is a lot stronger than it was before and could penetrate walls better than it has before also. Students are also able to get into the school Wi-Fi like they were able to before the Wi-Fi service was upgraded. The Wi-Fi system is now able to be used to stream HD videos, stream music, and to do research without the signal dropping which is very helpful for the students at our school.
The Wi-Fi system was also updated to be able to support online testing. Now that the Wi-Fi service has been upgraded, students are now going to be able to take the online SBACC test in the MPR. Students are able to take this test because there have been a lot of access points put in the MPR which means there are more sources of Wi-Fi for computers to connect to. Trial runs for the online test taking have been very successful and show that the Wi-Fi can handle the online test.
Students also still have their own separate Wi-Fi system they can connect to and so does the faculty. With all the more access points and stronger connection, more students are able to use the Wi-Fi at the same time and the connection is stronger. The upgrade to the Wi-Fi service has been very helpful and was much needed.