Varsity Baseball Game Against Sylmar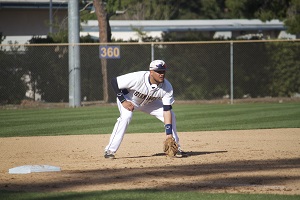 The Birmingham Varsity Baseball Team played a very fierce and close game against Sylmar last Thursday. The Patriots once again came out victorious with a 1-0 triumph . This win changed the team's record to 3-3.
The Patriots showed their strong defense during the first at bat when pitcher Adrian Rodriguez struck out the first batter. Rodriguez also struck out the following batter and the inning ended with 3 up and 3 down for Sylmar. Ivan Lomeli got Birmingham started with a base hit in the first inning. Lomeli also showed his speed when he stole second base and then stole third. Unfortunately, Lomeli didn't get to score because Sylmar got three outs before he could score
 Sylmar started to get things going in the second inning. They had 3 base hits that resulted in them having bases loaded with only 1 out. Adrian Rodriguez got a strike out which resulted in the first out and he knew he had to do something to prevent Sylmar from clearing the bases. He struck out the next batter so now there were 2 outs with bases loaded. The next batter came to the plate and once again Rodriguez struck him out ending the inning with the bases loaded. Birmingham's offense answered with a double from Alexis Miranda that resulted in an RBI. This score gave Birmingham a 1-0 lead and Sylmar knew they needed to respond.
Birmingham's defense played very well for the rest of the game; however, in the 6th inning, Sylmar had a chance to tie the game.  Sylmar hit a double and there was a runner on third that was coming home. A Patriot outfielder got the ball and threw it to catcher Ryan Mendoza just in time because the runner was about to cross home plate and Mendoza tagged him out. Second baseman Alex Stellpflue then caught a fast approaching line drive to end the inning. Adrian Rodriguez pitched all 7 innings and finished the 7th inning with a strike out to end the game. Adrian Rodriguez pitched very well having 7 strike outs and not giving up any runs. The final score was 1-0 Patriots.