2016 French Club Fashion Show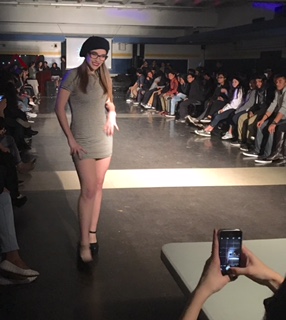 The BCCHS French Club Fashion Show impacted the school and left many students wanting more. Several students came to support their current French teacher, Mr. Endene. The multi-purpose room was full of excited students waiting to see their friends walk the runway. Did I say walk the runway, I did! Our very own Patriots were showing what they were made of with their French style clothes! Many of the students enjoyed the runway–expressing themselves with their clothing selections showing unique trends in current fashion circles.  The French Club did an astonishing job encouraging students to do something new and those who wanted to know what else French Club is all about–learning a new language through club experiences. The club did an amazing job decorating the multi purpose room and illuminating it up with lights making the night turn into day! French Club treats each other just like family and they worked together very well to put together this event while bringing something new to the school. This event took place in honor of the graduating seniors who wanted to leave their last mark on Birmingham Community Charter High School.
Currently, the French Club is holding their re-elections for their next president . The current president is Ivan Salinas. He will be graduating this year and will be attending CSUN . The club ended the year excellently by letting the school embrace how much French culture has impacted America. This includes fashion–many people don't notice it, but many of our fashions come from the French. They inspire many American designers with their marvelous creations. French culture has been embraced for many years by American society. You can vote now for the new French Club president! Many of his Mr. Endene's French students are interested in the French club and are running for president. Go vote now and see the fresh young faces for next year!