BCCHS Cheer Team Conquers Las Vegas Nationals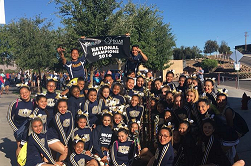 There's no doubt about it that this year's cheer team has drastically improved since last year's. Our BCCHS cheerleaders have worked extremely hard throughout the 2015-2016 school year and this earned them their first place win at the Six Flag's competition as well as the title of grand champions. They also earned the spot at this year's SHARP Nationals Competition in Las Vegas, Nevada. On Friday, April 22, forty-five peppy cheerleaders, along with three coaches, Jasmine Lee (head coach), Andrew Sarti, and Cynthia Vega, loaded a charter bus and they were on their way.
This was a very memorable event for our BCCHS cheerleaders since it was the teams first time ever attending. It was the seniors final hurrah and they wanted to go out with a bang and they did exactly that. When the bus full of a cheerleaders arrived in Vegas, they unloaded their bags at the Circus Circus Hotel then headed straight to practice. After a speedy and productive practice, a pool party and BBQ took place to celebrate the young girls' and boys' accomplishments.
Saturday morning everyone woke up bright and early eager to compete. When the group arrived to the competition they had some time to warm up and watch some of their competition. Butterflies and jitters spread like a plague throughout the team minutes before they had to take the stage, however, they were able to pull it together and put on an amazing show. Both JV and Varsity put on beautiful performances with minor flaws. These performances earned both teams a well deserved first place win. The team, along with the coaches, jumped with joy and could not have been more proud of each other. This win would not have been possible without head cheer coach Lee,  coach Vega and coach Andrew.
A celebration was held afterwards at Buca De Beppo where the team was able to bond all together one final time. What better way to celebrate besides Itlaian food? It was a beautiful dinner full of laughs and shared memories that will last a lifetime. Our BCCHS cheer program looks forward to what the future holds for them.