2016 Senior Sunrise Successful
On Monday, October 10th, there were roughly 200 seniors at our school's stadium by around 6:30am.  It was a chilly morning and waking up that day was not easy. However, kudos to ASB for arriving to school around 4 a.m. to prepare what turned out to be a very memorable morning. While some wished they'd stayed home sleeping, others enjoyed their time spent with friends.
The official start time was 6 a.m. but many students started arriving between 6 and 6:30. It was still very dark when people began arriving which gave off an unnatural feeling but an exciting one nonetheless. ASB treated the seniors nicely with a delicious breakfast that consisted of Belgium waffles with strawberries and whipped cream, and a choice of milk or water.  They also lightened up the mood with some groovy music and fun games for the seniors to enjoy.
It was 62 degrees that morning and many students brought blankets and very cozy sweaters to keep themselves warm, while others even decided to come in their pj's. To keep themselves entertained, students brought playing cards, but the senior sunrise, on its own, was very entertaining. They even put up a poster of "Legacy" in order for seniors to write down their names and carry on their legacy.
Overall, the outcome of this year's senior sunrise was unbelievable. The turnout was surprisingly full. ASB did not expect many seniors to show up compared to the amount that actually did.  Thank you to all ASB students and Ms. Rubinger for setting up an amazing event.
Steve Murillo, Jacquelyn Escobar, and Vivicka Sepulveda enjoying their view while enjoying their delicious waffles.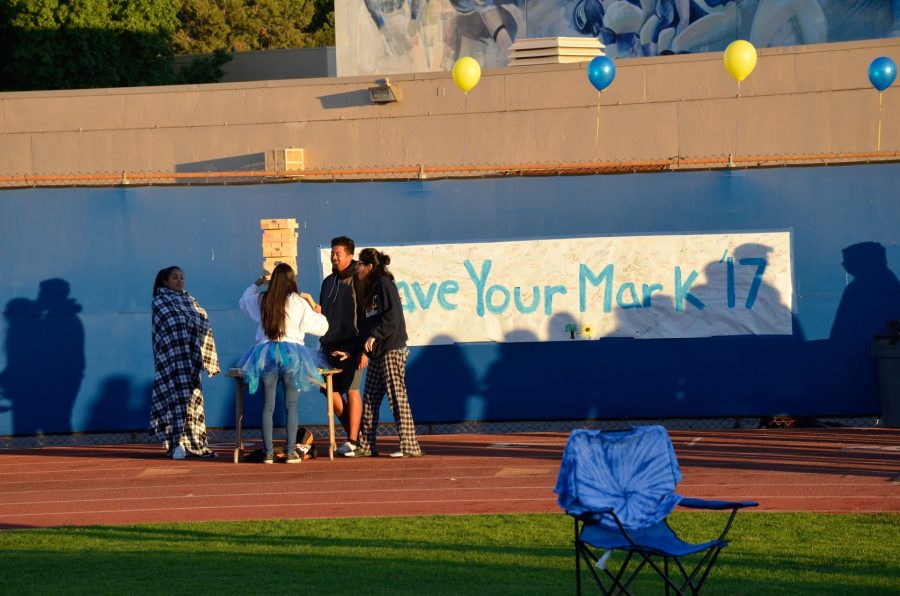 Seniors having fun while playing Mega Jenga and leaving their mark on the senior poster.