Birmingham Hosts First-Ever College Fair
On Saturday, September 30, Birmingham held it's first-ever college fair which lasted from 10:00 a.m. to 3:00 p.m.  Students from Birmingham and schools such as Los Angeles Valley College and Grant High School came to seek information about colleges they might be interested in attending in the future. Aside from colleges, the fair also offered information on upcoming tests. Even Army recruiters were there to give out more counseling to students who were interested in joining their ranks. This being Birmingham's first college fair, it was highly promoted and announced on the P.A. and some teachers even offered extra credit to their students if they were to attend.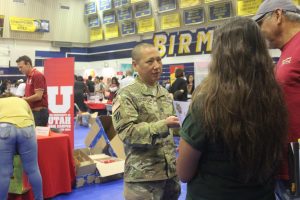 Gisselle Montes (12) was at the fair seeking for more information about both the Army and the Marines. She stated the fair was informational to her because "it made me figure out my future and the benefits the Army had." Montes also found the college fair to be a very enjoyable experience because McDonald's was giving out $2 gift cards and free coupons. When asked if the colleges surrounding the Army's display changed her mind about what she wants to do after high school, she replied that "nothing changed my mind about joining the Army." She also gave advice to upcoming seniors that if they want to go to college, go to Pierce College and then transfer to a university.
The college fair not only had stands inside the main gym, but also in front of J building and by the circle entrance. Food was being sold and items, such as highlighters and hand sanitizers, were being handed out in the stands. The cheerleading team was selling Thai iced tea boba and chips. The BCCHS Culinary Club sold some amazing handmade aguas frescas. There were also other stands that sold baked goods and full course meals, like BBQ chicken and fries.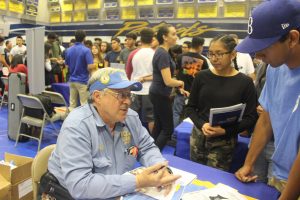 Another student at the college fair was Helen Diaz, a sophomore that was determined to get information about colleges. She said that the college fair "made me decide on what college I want to go to, which is Stanford."  Additionally, Diaz said that she went to the fair because "I wanted to see how I could apply and enroll." She would recommend any of the following colleges: Stanford, UC Irvine, and the Columbia College of Hollywood. All these colleges had great presentation at their displays. 
The college fair included informative issues that concern a lot of students. Due to this success of this event, many students became more aware of their future choices.