Does BCCHS Have School Traditions?
Traditions take place in your everyday life at home, family, church, clubs, your favorite sports teams, etc. We come to school everyday, but do we see any traditions around at Birmingham? Or are high school traditions just for the movies? This is my first year at Birmingham as a sophomore, and I noticed that this school does many things my old school didn't. Then, I started to wonder if the students at Birmingham saw traditions around the school or is it just normal for them.
Growing up many high school movies portrayed many stereotypes. Examples include: the head cheerleader being the most popular girl and dating the quarterback, jocks being dumb, nerdy kids being the lamest people, the mean girls, the emo kids, etc. They also show scenes where many schools have picnics, or go to the beach, or students go eat at the popular spot after school. Growing up and watching movies and shows like High School Musical, Mean Girls, Clueless, Bring It On, and The Secret Life of an American Teenager, many of us based our expectations on movies like these.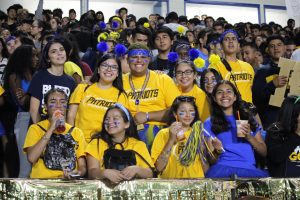 On the first day of a new school year at Birmingham, ASB hands out mini gestures to students such as patches, stickers, flyers, etc. They do this to amp up the students about the school year. ASB also decorates the halls with posters saying "Your Teachers Love You" or "Welcome Back Students."  I believe all schools welcome back their students but not the way we do as we even host a Welcome Back Pep Rally followed along by a Welcome Back Dance. The Welcome Back Dance this year was filled with a lot of fun. There was free food (In-N-Out), jumpers, a Photo Booth, and an amazing DJ. Very few schools host dances just for coming back to school, so I would consider this as one of  the traditions we have here at Birmingham.
When football season rolls around in late August, many events and activities take place. A tailgate activity happens before football games, and after-school, students usually go eat at the local restaurants.
At football games, students receive face painting with our schools colors. Many schools do that but adding the school's colors to their faces, makes the atmosphere more cheerful and school spirited. Homecoming is the game with most tradition. A pep rally takes place in the main gym which makes the game and dance very exciting. This isn't very different from most schools. When it comes to the game, there is a parade that takes place and it shows all the school clubs on campus as well as all the sports. Students create floats and the parade also drives around the Homecoming Court. Although this might be going on at other schools, the parade is a tradition at BCCHS because we have been doing it for a good number of years. Towards the end of the game, they pass out baggies containing different colors of chalk so they can be tossed into the air. This is called "PowderPuff," and for a high school, it is very unique to BCCHS.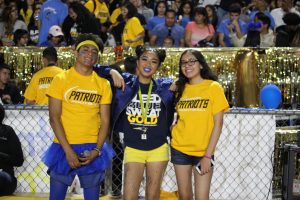 Once football season is over, basketball season starts to roll around. Going into the second semester, students start to get more excited about basketball season. At the basketball games, people get really excited–the band plays, cheerleaders are there, and the dance team performs at halftime. Basketball games are almost the same as the football games, so not much new tradition takes place at the basketball games.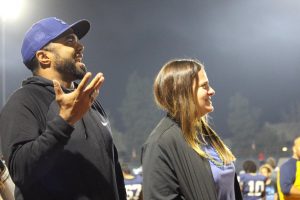 BCCHS does have traditions, and there also might be many traditions that were not included in this article.  Writing about the traditions did show a pattern though, and it was this: BCCHS has more school spirit than traditions, and in order for all these "traditions" and events to take place, it takes school spirit.
It takes spirit for the students to attend the games and have pride in their school. It takes spirit to get excited for the students playing on the field or court. It takes spirit for students to say that they attend BCCHS with pride. The students at BCCHS are very lucky for all the school spirit and pride that is abundant here.
All the effort people put into making these events happen, and the thought of them wanting us to enjoy our four years of high school is very exciting and humbling at the same time.