Incredibles 2 Movie Inbound Soon!
During the early 2000's, Pixar released arguably some of its best films. All of which were granted a sequel or a satisfactory story-ending.
The Incredibles, which was released in 2004, has had fans aching for a sequel since the producers left us with a cliff-hanger. As a brief reminder, Jack-Jack, the youngest of the family, shows off his numerous abilities while he defeats Syndrome, the core villain in the first movie.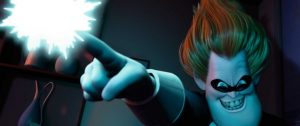 Once the family has recovered back to their normal lives, the movie shows a preview of the second movie's villain, The Underminer. The viewer gets to see the family suit up and then the captivating movie ends.
For 14 years now, people have had to wait for any word of a sequel, and on June 15 we will finally see a long awaited movie.  All the 2000's babies who watched movies like Cars, Ratatouille, and Toy Story, now have a movie to look forward to in June. Teens and young adults will probably be gathering in packs to see this movie. Probably even more than some younger children. Incredibles 2 is expected to be a nostalgic movie that will bring in families old and young.