Birmingham Film Festival
On Friday, May 11th, Birmingham had its first-ever film festival in the PA, and it was a smashing success.
The festival featured works by the very talented filmmakers from Mr. Kelly's advanced filmmaking class, as well as animations from the talented animators from Mrs. Bedrossian's animation class. The grand prize of one-thousand dollars was to be awarded to the best film out of the three short dramatic films being shown. In addition, smaller prizes and recognition were given to the best animations out of the many being shown at the festival.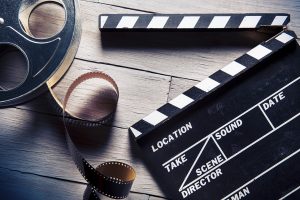 In addition to the entertainment, Chef Frederick's culinary arts club prepared a delicious menu of hors d'oeuvres for the spectators, which included teriyaki chicken lolipops, beef empanadas, and spanakopitas. To wash down the delicious appetizers, virgin cocktails and refreshments were served.
Of the films being shown, "Daydreaming", a dramatic-action film by Oliver Chavez, utilized sleek special effects and excellent cinematography to support its somewhat complex plot. The film features an unnamed protagonist who is terrorized by an unknown masked enemy every time he dozes off. Dramatic and exciting, "Daydreaming" left the audiences in awe with its engaging story and crisp editing.
The second film, "Warwick", was somewhat of a tearjerker in terms of plot. The protagonist, Daniel Warwick (Lucas Duarte) feels great guilt after the loss of his little brother, and it tears his life apart. Cinematography was very indie-like, with warm filters and close up shots. The film featured excellent acting, and was very engaging in terms of plot.
While all films shown were excellent, in the end the grand prize of one-thousand dollars was awarded to "Daydreaming." The Birmingham Film Festival was a great success, and there will surely be another one next year.