Matt Murdock Seen Again in Season Three of Daredevil
Daredevil has recently hit Netflix again with an anticipated third season. Daredevil is a show loved by fans because it shows the dark side of Marvel Comics that Disney does not show in their movies. With excellent fight choreography, plot twists, and the realistic take on the super-hero, Daredevil is one superhero show you don't want to miss. While fans were waiting for the new season to release this October, they finally got what they have been waiting for. With Daredevil having such a huge Marvel fanbase, a lot of viewers spent most of their weekend watching this action-packed series. Charlie Cox (who plays Matt Murdock/Daredevil) hits us with another season of awesome action-packed scenes. Starting off from the last time he was seen in Defenders, it turns out Murdock survived the collapsing building.  Although he does lose his signature red suit, he goes back to his classic black suit, because "old is gold." A familiar face also re-appears in the series, Kingpin (played by Vincent D'Onofrio) who becomes free and ready to to get revenge on the man who put him behind bars, Murdock.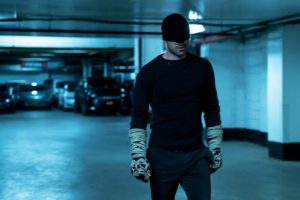 The show starts off slow, with Murdock becoming deaf in his right ear and losing his superb hearing. This makes it hard for him to even walk to the bathroom. But the show eventually builds up and becomes a fantastic feast for your eyes. The legendary hallway fights come back and a 10-minute prison fight scene is featured that you will want to see with your own eyes. This scene was loved by fans because it showed off excellent fight choreography, and just like the old hallway fight scenes, took place in a confined space and was a multiplayer fight scene with plot altering dialogue. The main villain Kingpin brings in a new villain for the series, Bullseye (played by Wilson Bethel), an old rival of Daredevil in the comics.  Although Bullseye does not get his costume back, we see that he is the legendary villain because he never misses. He even takes up the mantle of Daredevil to make everyone in Hell's Kitchen see him as a villain. With the real Daredevil having to fight off this deadly new foe and a familiar one, he goes as far as to think about killing Kingpin and putting an end to all his crime.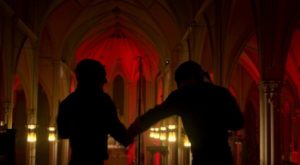 Other than Murdock, we see how his two friends Foggy Nelson (Played by Elden Henson) and Karen Page ( played by Deborah Ann Woll) are doing. Foggy is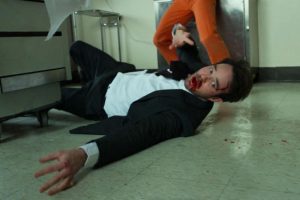 dealing with family issues and trying to put Kingpin behind bars again. On the other hand, midway through the season, Kingpin begins to hunt down Page after revealing to him that she was the one that murdered his best friend. Kingpin even goes as far as hiring Bullseye to try and kill her. Giving Daredevil/ Murdock something else to protect. While all this is happening, a newcomer to the show, F.B.I agent Ray Nadeem ( played by Jay Ali) tries to do his job not knowing that half of the F.B.I has been under the control of Kingpin, After being blackmailed with framed murder, agent Nadeem must choose whether to help Daredevil or stick with the crime boss Kingpin. In the end it all comes down to an epic fight scene between Kingpin, Daredevil, and the deadly Bullseye, who has been driven off the edge after finding out a disturbing truth. This fight scene showed a three way fight scene and had an epic all out brawl with interesting dialogue. All in all, Daredevil season three is well worth the watch if you want to see a Marvel show that gets dark with the best fight scenes and has fully-rounded characters and a plot that has the potential to create something special. Much like The Dark Knight trilogy, this is popular entertainment that's made with intelligence, realism and passion.