"BE" Released , BTS is Back With a New Album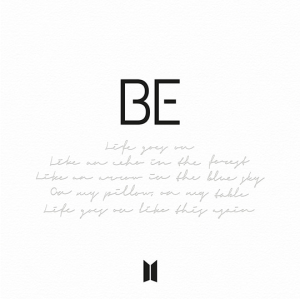 The popular South Korean boy group BTS, is back with their long-awaited 9th studio album. This album has a calming and soothing sound to appease the soul and mind. Created in response to the ongoing COVID-19 pandemic, BE was inspired by their thoughts and feelings experienced during the conception of this album.
This album was specially made by BTS to show their personal growth in songwriting, production, and direction. Personally, I think that BTS has always had breathtaking music videos and meaningful songs.
BE is primarily a pop record, but it also contains some EDM, disco, synth-pop, neo-soul, funk, and R&B. BTS  described this new album as a "letter of hope" as this album touches many themes that a lot of younger and older fans alike can relate to such as comfort, loneliness, anxiety, depression, and hope. The band members themselves have mentioned how heartbreaking and stressful the world is at the moment, and they wanted to create something to help lift the spirits of their fans.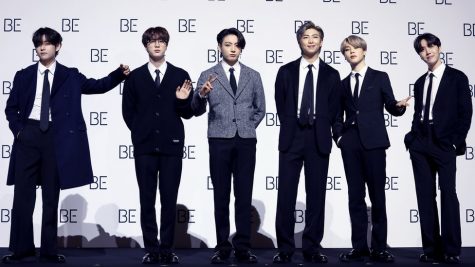 The track list contains: (1) 'Life Goes On" (2) "Fly To My Room" (3) "Blue & Grey" (4) "Skit" (5) "Telepathy" (6) "Dis-ease" (7) "Stay"(8) "Dynamite"
Their title track, "Life Goes On," debuted at number one on the US Billboard Hot 100. This became BTS's third consecutive number-one song and it also entered the top 10 of the UK singles chart. Beyond their achievements, let's unwrap the in-depth meaning of some of their songs.
"Life Goes On" This song primarily talks about longing for a different time, aching for human connection. This particular song was purposely made with no choreography, or a beat you could dance to. It's a very stripped-down melody that seems almost nostalgic. The song itself is very vulnerable–melancholy, yet at the same time calming. Personally, this is probably my favorite song from the album. Many other fans and I felt the similarities that this song shared with their 2017 hit "Spring Day." Not to mention the fact that the music video for this song was very emotional for fans. BTS have really worked hard for where they are currently and they have never changed for anyone but themselves.
"Fly To My Room" This song was actually written by the following members: Suga (Yoongi), J-Hope (Hoseok), Jimin, and V (Taehyung). This track is a laid-back groove, and the chorus really kicks in and makes people want to get up and get things done. This one is a little on the personal side for these members as they open up about how being in quarantine has affected them. Regardless of being stuck at home, the boys have managed to find ways to kill time and to make the most out of life. Some of the lyrics in this song really push how frustrating life is right now:  "Somehow there's no joy, no sadness, no emotion. It's just me here." This line addresses the uncertainties of life when everything suddenly seems to have come to a stop.
"Blue & Grey" This track was written by none other than Taehyung (V) himself. Originally, this song was composed and written in English and was supposed to be for his mix-tape. This acoustic pop ballad has caused many fans' hearts to ache. The emotional bareness and the heartbeat pulse throughout the chorus makes a pull at everyone's heartstrings. Taehyung's voice is quite unique and very different in contrast to the other members because his voice is in the lower range. This has caused the song to sound more melancholy and calming. He simultaneously sings about his love for music and his depression, which ultimately clashes with his passion. By using the colors blue and grey, he purposely meant to capture the feelings and visual experience of enduring sadness and depression while still managing to pull through.
"Skit" This intermission sits in the middle of the album and is just a recording of the members speaking in Korean. The members discuss the journey of their career and they ponder when it'll just become a beautiful memory as they grow. They are in awe as they talk about their accomplishments over the past few years and as they thank their fans for sticking with them for so long.
"Telepathy" This is a self-composed song by Suga (Yoongi), not to mention that RM (Namjoon) and Jungkook were also a part of the track. This song is in the retro-pop disco genre, and it is one of the more upbeat and exciting songs to listen to on the album. "Telepathy's" lyrics were written to describe the current situation of Covid-19. They were not able to meet their fans this year, being both on tour and at their usual fan signings. During the recent album conference that BTS attended, their oldest member, Jin (Seokjin), dedicated this loving tune to their fans to hold them to their hearts as a way to cope during this tragic time.
"Dis-ease" This old-school hip hop track has become the all-time favorite for fans on this recent album. Although the name of this track may be somewhat controversial, it actually has a clever purpose to it. In Korean, the song title is actually "Byeong," which can either mean sickness or bottle. With this being known, a lot of fans created theories as to why this song was named that, but thankfully the conference revealed the truth behind this song. J-Hope was actually the one who chose the title– he was also the one who composed and co-wrote the song. With the help of RM, Suga, and Jimin, they also wrote some of the lyrics. According to their leader, RM (Namjoon), the song has two meanings. When the word is joined, it means "sickness," but seeing that there's a hyphen separating some of the letters, it can also mean "unease." This was purposely done in order to make an opposite meaning in English and to show the grasp J-hope has on English wordplay.
"Stay" & "Dynamite"  Starting with the track "Stay," this track is primarily about making a connection with someone that goes deeper than just being able to see them every single day. During the first verse of the song, Jungkook and Jin take the lead singing about how their heart beats loudly no matter where they may be. Throughout the rest of the track, BTS state their message, loud and clear, that they will always stay by ARMYs' (their fans) side for as long as they can. Last, but certainly not least, we have their final track, "Dynamite," which was released ahead of the album, and the song's sole creative purpose was to be a positive distraction for their fans during the pandemic.
The video above so happens to be the album conference in which BTS spoke about their album. Unfortunately, their 7th member, Suga (Yoongi), was not able to attend, and will not be able to attend any kind of activities that promote their comeback because he's currently healing from shoulder surgery.
I have been a fan of BTS since early 2016 and I, too have grown and watched BTS accomplish a lot of astonishing things. This album is certainly one of the greatest works that they have done, as they have really outdone themselves, but that's nothing new coming from BTS. Every album release has had their heart and soul poured into their craft.
BTS has also become the first Korean act to be nominated (again) for a Grammy, for their track "Dynamite." It is nominated for 'Best Pop/Duo Group Performance' at this year's 2021 Grammy Awards.