The Love Concert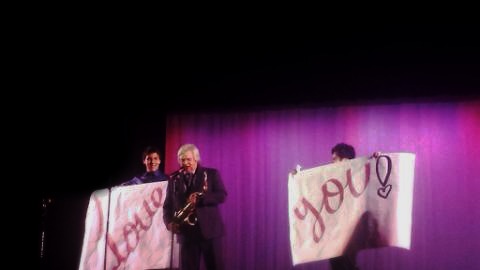 Love seemed to be in the air of the Performing Arts building on the night of February 12th. There was a total of twenty five performances. Songs ranged from Ed Sheeran to Elvis Presley. Acoustic versions of songs were also performed.
The night began with Taylor Swift's six year old song "You Belong with Me" sung by the Woman's Choir and the song was accompanied with the acting styles of Xavier Escobar, Karina Munoz, and Joanna Salmeron. There was much laughter and applause as a reaction to the musical number.
Further into the show, the audience was left stunned by the outstanding performance of our beloved band instructor, Donny Sierer. He surprised his wife-to-be with an original song titled "As You Wish" which he played on a saxophone.
The masters of ceremony, Adam Punzalan, Darian Ramirez, and Megan Garcia, helped move the show along by introducing the acts. Even though they were presenting performances all night, that did not stop them from singing as well. Adam sang "So Sick" by Ne-Yo with Darian. Adam also performed a Michael Jackson Medley with Megan and Laurence Guillermo. Darian also sang with Laurence when they sang "I Got a Woman" by Ray Charles. All of the performances were enjoyable.
Other spectacular performances consisted of Kyle Camacho singing Frank Sinatra's "Come Fly with Me" and Alma Gomez singing "At Last" by Etta Jones. Also singing Etta Jones was Miya Williams who carried out the song "Id Rather go blind"
Students also did covers of Ed Sheeran songs. Genesis Garcia performed "Think Out Loud." Kassandra Robles and Alondra Torres later performed "Give Me Love" by the same musician. Elvis renditions were heard twice that night as well. Lawrence Lopez managed to splendidly present "Always on my Mind" to the cheerful audience. Isaiahs Bejarano in addition did an excellent job of crooning the song " Can't Help Falling in Love."
The night ended with the chamber singers singing Queen's "Somebody to Love". A solo group was present during the song, which consisted of Xavier Escobar, Laurence Guillermo, Rondez Rolle, Andra Garcia, Cynthia Orozco, and Kassandra Robles.