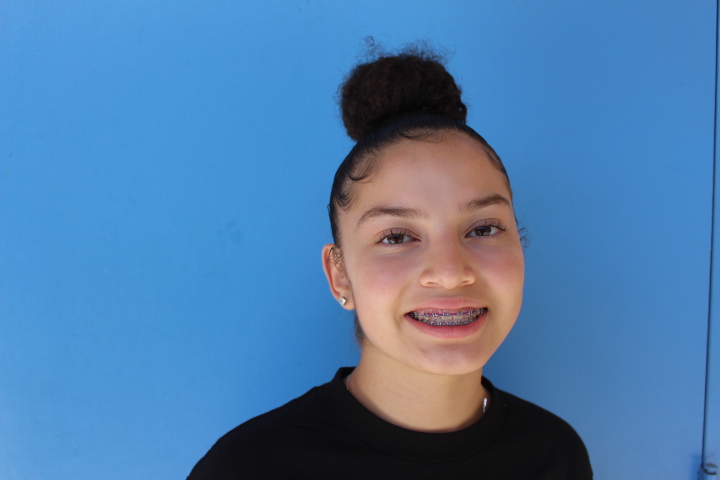 Sophia Antillon is a sophomore at Birmingham Charter High. She is very good at subjects involving literature although she may struggle in mathematics and science. She never really found those subjects to be very interesting to her anyway. Sophia also loves anything art related. Whatever it may be, drawing, painting, and sketching, she loves every aspect of art. It makes her feel relieved and it also prevents her from stressing even more than she might already be. For that same reason, she loves taking photos. Photos are her way of expressing how she feels about the things that are being photographed. Her dream is to take photographs of many famous people when she's older.
Sophia is someone who is always happy. She loves to make her friends happy as well as her family. It might be a bit surprising when she isn't feeling happy. Her friends worry when she isn't, because she is always uplifting and always has a smile on her face. She is more than grateful to always have her friends and family there for her at all times. Sophia loves to write about her feelings, whether they are positive or negative. Her ability to write has been complimented by others when it comes to writing about herself and her personal life. She always talks about how society can affect us and how our own feelings can affect us. When she writes, she always expresses herself as much as possible. When she found out she was going to take journalism this year, she was beyond excited.
Volleyball also plays a huge role in Sophia's life. It's something that she loves to do. Many might say she is also very good at it. It's something that helps her cope with things and makes her feel like herself. It brings out the strength in her that people might not see. She gets frustrated even when she can't practice for one day. She enjoys the sport so much because of how much it's affected her life. Volleyball has made her grow, and it has helped her learn how to better socialize with others. Once she got into the sport, she knew that this was something that was going to bring her spirits up, and it did. It has changed her life in the best way possible and she couldn't be happier that she found that sport.
Sophia Antillon, Staff Writer
Sep 16, 2020

'Murder Hornets' are Identified in Washington State

(Story)

Apr 13, 2020

USC Announces Free Tuition for Students With Family Income Under $80,000

(Story)

Feb 25, 2020

Kobe Bryant's Influence on BCCHS Students

(Story)

Dec 16, 2019

Birmingham Football Wins 2019 Open Division City Championship

(Story)

Nov 12, 2019

BCCHS Varsity Football Wins League, Faces Garfield in Playoffs

(Story)