Kanye West's 10th Studio Album Donda
The album dedicated to Kanye West's late mother was announced to release last July 24, 2020. Since then, there have been multiple delays. Finally, one year, one month, and four days later, the album Donda was officially released.
Before releasing the album, Kanye had three listening parties/events for the album. Two of the events were at Mercedes Benz Stadium in Atlanta. The first event took place on July 22, and the second event was on August 5. The third event was at Soldier Field in Chicago on August 26.
The events were exclusively streamed on Apple Music, so you could watch it live without having to be at the stadiums. He broke the record for most views on a live stream event on Apple Music. The first event had 3.3 million watching, the second had 5.4 million watching, and the final event had 5.9 million watching.
The album features big names in the music industry such as Jay-Z on the track "Jail," The Weeknd on "Hurricane," Travis Scott on "Praise God," Kid Cudi on "Moon," and more. These features were all big surprises at the events and the fans loved them. Kanye even sampled one of Ms. Lauryn Hill's songs on the track, "Believe What I Say." 
Donda was released early in the morning on a Sunday. The album had different genres such as Gospel, Pop, Trap, Drill, and Hip Hop. Despite dropping early in the morning, the album still went #1 on Billboard and sold 309k album units.
This is Kanye's 10th #1 album on Billboard. The album went #1 in 152 countries on Apple Music. The album acquired 60 million streams on Apple Music during the first day it dropped. On Spotify, the album earned nearly 100 million streams on its first day. West's album is already eligible to be RIAA gold certified, just 2 weeks after its release.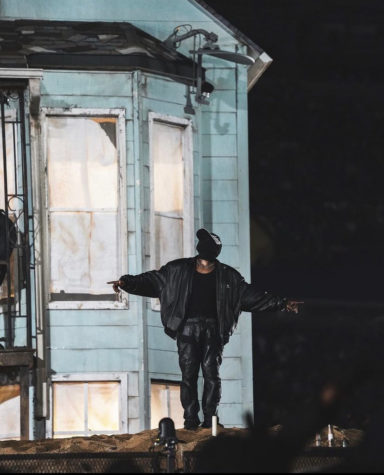 The album was dedicated to his late mother, Donda West, who sadly passed away in 2007. This album was dedicated to his mother because she was the most important person in his life when she was alive. She was always there for him and always supported his decisions. On Kanye's second album, Late Registration, he has a song dedicated to her titled, "Hey Mama." In the song, Kanye expresses his love for his mother. After his parents divorced when he was three years old, Kanye and his mother moved to Chicago. He spent the entirety of his life with his mother, so when she passed away, it affected him deeply. Donda was, still is, and always will be, important in Kanye's life.
Seventeen years into his professional music career and Kanye continues to succeed. Not many others have been able to be relevant for this long in the music industry. Despite all the wild controversies he's been through, people still continue to listen to his music. From almost having his life taken in a car crash in 2002, to being a successful musician and billionaire, Kanye's music has influenced a lot of people in the music industry. From producers to rappers, West's influence in the music industry is undeniable. Whether you love him or hate him, you just can't deny his greatness.